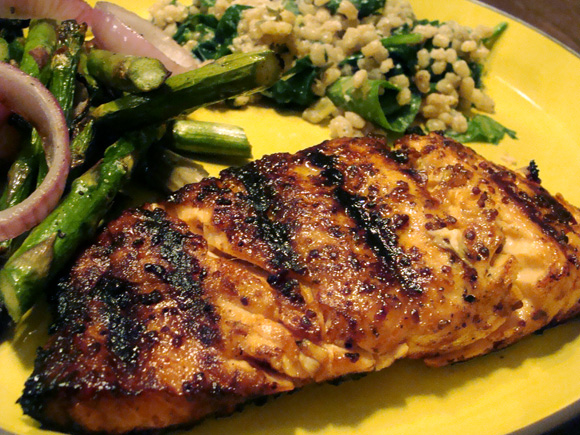 Spending time in the kitchen playing with craft beer has sadly been a rarity for me recently, as I am sure you have noticed.  Life has been moving really fast and has left little time to incorporate beer into my food or spend much time doing anything beer related. However, last weekend I had the luxury of enjoying not one, but two beer infused meals. Meal #1 was your classic beer can chicken. I spent the day at the Firestone Walker Invitational Beer Festival and wanted a simple, but filling meal afterwards that could be cooked on only a grill and single hot plate (which is what my rental cottage provided). I bought a 12 pack of Sierra Nevada pale ale cans and got to work at the grill. With a little olive oil/spice rub on the outside and a can of Sierra Pale Ale on the inside, the chicken cooked away for a little over an hour on medium, indirect heat from the grill. It turned out great and went perfectly with the grilled sweet potato wedges and broccolini I served on the side. If you have never made a beer can chicken before, it is a great option for a simple and cheap dinner that can feed a lot of people. Just make sure you have time since the cooking process takes a while.  Having beer involved in my dinner was a great way to end a very craft beer focused day. The Firestone Walker Invitational was amazing, by the way. Super classy and all about craft beer and all the good things that come along with the industry.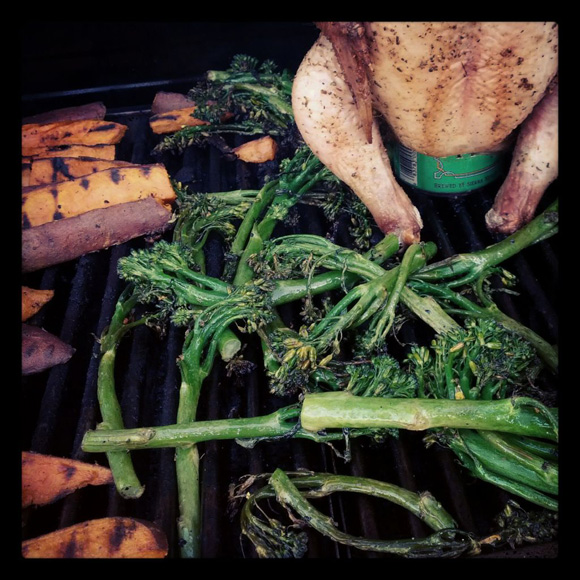 The beer can chicken only used up one can of Sierra (and I drank wine with dinner), so I headed back to LA with 11 more cans up for grabs. I realized I was facing a Sunday without much to do, so I decided to see what else I could make with the pale ale. My first thought was some kind of grain boiled in the beer. I made a beer boiled bulgur wheat with green onions, garlic and blue cheese.  It turned out pretty good, but was too bitter to be blog worthy. I am going to try again with a much lower IBU brew and will let you know how it goes. My second idea was to make a marinade for salmon out of the Sierra Nevada pale ale and this one worked out beautifully. I combined the beer with whole grain mustard, honey, olive oil and shallots for the marinade.  I love mustard and think it goes really well with salmon, so that was a must. I added in the honey to cut the bitterness of the beer and shallots for more flavor. I make similar marinades and dressings with various vinegars and thought the pale ale would be a good substitution.  It was a great combination.
After letting the salmon soak for a while in the mixture, I wrapped them in foil packets and on the grill they went. The end result was a super moist fish on the inside with a crispy outside – just how I like it. There wasn't an overwhelming beer flavor to the salmon, but it turned out perfectly. The caramelization on the outside was amazing, which I partly attribute to the beer.  No matter what made it great, this was a fantastic marinade for salmon and I can't wait to make it again.
What you need (makes enough marinade for 2 pounds of salmon):
1 – 2 pounds of salmon with the skin removed
½ cup pale ale (I used Sierra Nevada pale ale)
1 tablespoon whole grain mustard
2 tablespoons honey
½ cup olive oil
1 tablespoon chopped shallots
Add the beer, mustard and honey to a small skillet or sauce pan and heat it over a medium low heat.  Bring the mixture to a slow simmer and allow it to cook for about 7 minutes.  Add the mixture to a bowl and throw in the chopped shallots. Season with some salt and pepper, then add the olive oil in a slow stream, being sure to whisk the mixture the entire time. This will help the oil incorporate into the beer.
Once your marinade is ready, put your salmon in a shallow dish or large zip lock bag and season it with salt and pepper on both sides, then poor ¾ for the marinade over them. Cover the salmon and put in the fridge to hangout. Flip the salmon after about 2o minutes and marinate 20 minutes more.
Once your fish is good and flavored, heat the grill on medium-high. Make a foil pouch for each piece of salmon and put them insdie. Pour the remaining marinade over the fish, close up the foil pack tightly and add the fish to the grill. Allow them to grill for 6 – 8 minutes, then flip the entire foil pouch over and grill for another 6 – 8 minutes. Once you have grilled both sides, check for doneness. They should have a nice crispy skin on the outside, but still tender on the inside. Once they are done, remove the salmon from the grill, unwrap from the foil and enjoy.