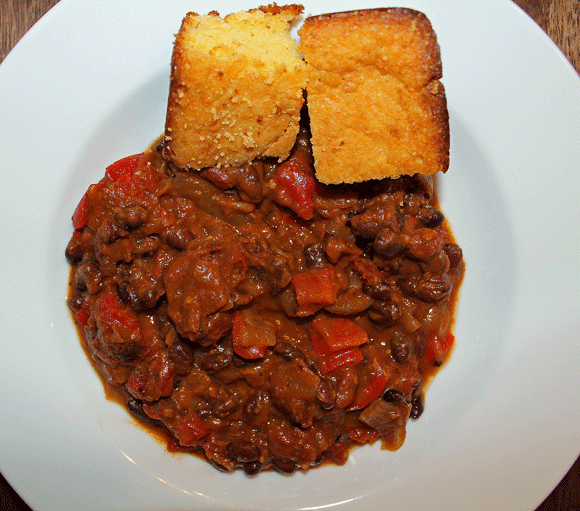 Recently I invited a group of people over to my house for an afternoon of beer drinking and chili eating to celebrate Fall's arrival. I thought this would be a perfect opportunity to try out my second recipe that incorporates pumpkin beer. I love vegetarian black bean chili, so I tweaked some recipes to incorporate pumpkin beer and make it more in the Fall spirit. I combined black beans, red peppers, pumpkin, and the pumpkin beer with a blend of spices. The chili turned out great with hints of pumpkin flavor and a little bit of heat from the Anaheim pepper I used. The beer adds a rich flavor and highlights the pumpkin and spices in a way that broth or water couldn't come close to doing. In fact, any time you make any sort of chili, adding in a bottle of beer (usually a dark ale) is a good idea.
Since I was entertaining, to make things easier on myself I made my chili in the morning and let it sit on the stove in the pot until my guests arrived. I just turned on the heat to low to reheat before serving and let them have at it.
I served the chili along side a big tray of cornbread, a few simple salads, sour cream, cheese, green onions, fresh tomato, and avocado. I set everything out in the kitchen for my guests to come grab at their leisure.
When it came time to clean up, I only had 1 serving of chili left over which was perfect for lunch the next day. The flavors had developed a bit more and I have to say, it was even better on day 2. Next time I'll be making a double batch so I can have more leftovers to freeze!
What you Need
2 tablespoons olive oil
3 red peppers, cut into bite sized pieces
3 onions, chopped
4 garlic gloves, minced
3 chipotle chilies in adobe sauce, chopped (these come in a can)
1/4 Anaheim chili, seeded and diced (you can use more if you want more heat. I am a heat wimp, hence the small amount. Also, feel free to use other types of chilies)
3 cans black beans, drained and rinsed
One 12 oz bottle of pumpkin beer
One 15 oz can pumpkin puree
Two 15 oz cans diced fire roasted tomatoes
2 tablespoons chili powder
2 tablespoons cumin
1 tablespoon coriander
1.5 teaspoons cinnamon


What You Need to Do
Start by heating the oil in a large pot over medium high heat. Add the onions and sauté for 10 – 12 minutes until they are soft and translucent. Next, add the red pepper, chilies, and garlic. Sauté for another 5 minutes.
After that, add in the remaining ingredients (beans, pumpkin, beer,tomatoes and spices). Give the pot a big stir and turn the heat up to high. Bring the chili to a boil, continuing to stir every few minutes. Once the chili boils, turn the heat down to low, cover, and let it simmer for 30 minutes. Stir the chili periodically during this time.
At this point your chili is ready to eat, but feel free to let it sit for longer for the flavors to develop. As I mentioned above, I think it tasted better on day 2. Also, chili freezes really well, so if you have a pot big enough, double the recipe and enjoy some awesome leftovers.