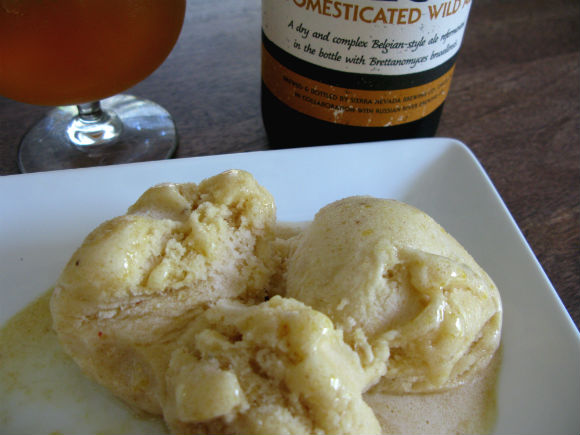 It has been far, far too long since I've made beer ice cream. It has been far too long since I have made anything with beer and I apologize for that.  Since starting my new job in the craft beer industry 2.5 months ago, I have barely had time for messing around with beer! Funny how that works. This is my first step to fixing that situation.
I have been eyeing the lambic sorbet recipe in Jeni's Splendid Ice Cream book for a while now, so with the temperatures soaring in LA recently and a bottle of the Russian River/Sierra Nevada collaboration, Brux, laying around my house, it was time to execute.  Brux is technically a "domesticated wild ale" and not a lambic, but after tasting it, I thought it had the right amount of funk and sweetness to make a lovely sorbet. For this beer, close friends Vinne Cilurzo from Russian River and Brian Grossman from Sierra Nevada got together in Chico, CA to make this unique brew. The end product is a good marriage of the two breweries, with a slightly funky (but not sour) beer that is well balanced. It is tart with lemon and fruit notes and is overall pretty dry.
When choosing a fruit to use in the sorbet, peaches jumped out as a great compliment to the beer and are in season right now, so they got the job. Armed with just a few simple ingredients, a food processor, and  an ice cream maker, I got to work. This sorbet is super easy to make and the end product was a creamy, lightly sweet, and barely tangy delight. It is just the refreshing treat I have been looking for during the heatwave. It won't weight you down, but certainly satisfies. Any dry, slightly funky beer with a good hint of sweetness would work well with this recipe. Of course, a peach lambic would also go nice. Play around with different beer/fruit combos and have some fun. It's hard to screw up when beer and ice cream are involved.
The first step to getting back to playing with beer was a success. Now, on to studying for my Cicerone certification!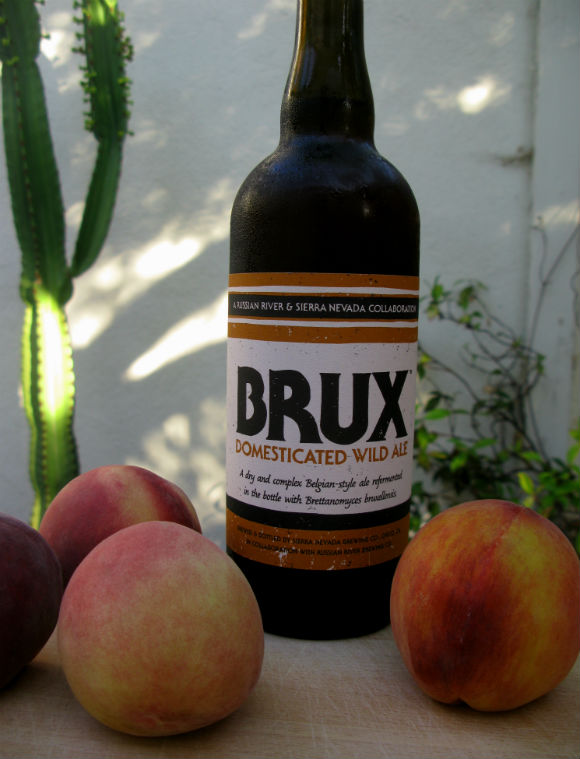 What you need
 1 pound peaches, peeled and cubed (I used a mix of white and yellow peaches)
1 cup sugar (use less if you are using a really sweet lambic beer)
1/3 cup light corn syrup
3/4 cup funky/lambic beer, chilled (I used Sierra Nevada/Russian River's Brux)
What you do
Start by prepping the peaches (or other fruit you choose to use). Peel them, remove the pit, and cut them into chunks. Add the chunks to a food processor and puree the fruit until smooth. Next, add the pureed fruit, sugar, and corn syrup into a sauce pan. Bring the mixture to a simmer and stir until the sugar dissolves. This should take about 4 minutes or so.  Pour the mixture into a container and put it in the refrigerator to chill for at least 2 hours.
Once chilled, add in the cold beer and mix. Pour the peach/beer goodness into your prepared ice cream maker bowl and let the machine do its work! In about 25 minutes, you should have a light, creamy sorbet.
Put the soft sorbet into a storage container and press a piece of parchment paper on top, then the lid. Add the container to the freezer and allow it to sit for at least 4 hours. After that, you are ready to eat