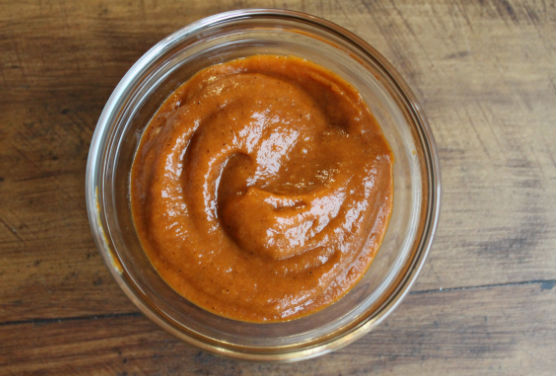 Making ketchup from scratch may seem excessive, but this is no ordinary ketchup. This is an elevated tomato dip infused with caramelized onions and Belgian tripel beer. If you want to bring your A-Game to the next BBQ you go to, this is a good way to do it. While people are showering you with compliments and asking you how you made the ketchup, you can leave out the detail regarding it being super easy.
This was my first time making homemade ketchup and it was really fun to create this thing that we always have in the fridge, but have put zero thought into how it is made. Making it yourself gives you the freedom to play around with flavors that you like. Curry ketchup, raspberry ketchup, or maybe beer+ caramelized onions ketchup? Why not! I decided to make a luscious, sweet and complex ketchup that will go great one any burger and fry plate. This ketchup would also be a great hostess gift. The recipe makes a decent amount, so you could package it up in several smaller jars and have gifts ready to go!
There are a few beers that came to mind when I started putting this recipe together. I wanted to use something with low to moderate hop bitterness with sweet, fruity notes to complement the caramelized onions and tomatoes. I thought about a dark beer, like stouts or porters, but those were too were too toasty. Next I thought about a dopplebock, but those also tend to have high some prominent toasty notes. Next I went to the Belgian tripel. This beer has spicy, fruity flavors, is not too hoppy or malty, and has a nice sweetness to it. The peppery, citrus flavors add depth to the ketchup while complimenting the tomatoes. While high in alcohol, this classic Belgian beer style doesn't taste like it, which is a good thing since I didn't want the ketchup to taste boozy.  I used Westmalle Tripel, which comes from the trappist brewery of the same name. They have been brewing since 1836 and make a pretty mean beer. They produce 3 beers in the traditional trappist style, with their Tripel being an industry standard for what that beer style should be. Any tripel will work for this, but I caution you to make this recipe when you are in the mood to drink the beer. Tripels usually come in large format bottles and you are only using a small amount of it in this ketchup. It would be a shame to let the rest go to waste!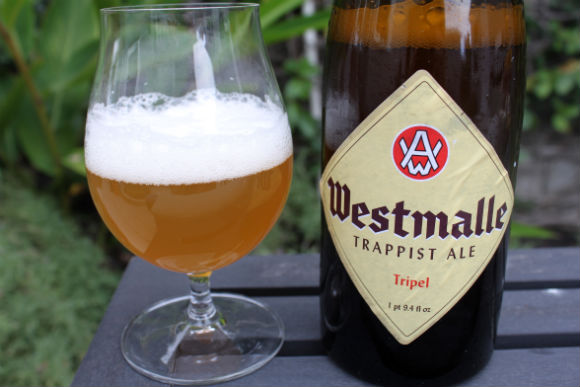 What you need
 28oz can whole tomatoes in juice
2 tbls butter
1 onion, sliced into ½ moons
2 cloves garlic, chopped
1 tsp paprika
½ tbls coriander seeds
¼ tsp all spice
½ tsp ginger powder
1.5 tbls tomato paste
¼ cup brown sugar
1/4 cup apple cider vinegar
1/4 cup + 2 tbls Belgian Tripel
 What you do
Puree the can of tomatoes in a blender until smooth and set aside. In a medium pan with high walls, heat the butter over medium heat. Once the butter is melted, add in half of the onion and stir to coat them in butter. Let the onions cook for 10 – 15 minutes, stir occasionally, until they are golden brown and caramelized. Remove the onions from the pan and set aside.
Next, heat a splash of oil in the same pan over medium heat. Add in the rest of the onions and the garlic. Cook for 3 – 5 minutes until they are slightly golden and softened. Add in all the spices, the tomato puree, tomato paste, brown sugar, and vinegar. Stir and season with salt. Turn the heat down a bit and let the mixture simmer for 40 minutes, uncovered, stirring occasionally. After 40 minutes, add in the beer and simmer for another 20 – 30 minutes, until very thick.  Taste the ketchup and add more salt if needed.
Pour the ketchup into a blender and puree until smooth. If desired, push the dip through a mesh strainer for a smoother consistency. Pour the hot ketchup into glass jars, cover, and refrigerate for at least 3 hours. The ketchup will stay good for up to 3 weeks.