Airplanes and suitcases have been a staple in my life recently. I spend about half of my time on the road, which can be really hard when you love being in your home, but having a job in an industry that I love (craft beer) makes it all Ok. I found myself at home on a rare work free Saturday recently and couldn't wait to spend some quality time in my kitchen creating a new beer infused dish. It has been far, far too long.
Peaches can still be found in abundance at LA grocery stores and I knew I wanted to make a dessert, so that was the foundation of my recipe. It's been a while since I've been in the kitchen, so I reached for an old standby beer for making sweet dishes: raspberry lambic. Lambics have very little bitterness or aroma from hops, which makes them very cooking friendly. The hops typically used in lambics are aged for 2 – 3 years, which removes most of the aroma and bitterness. Also, fruit lambics are a bit sweet, another nice property when making a dessert. These ancient Belgian ales are spontaneously fermented, so they have some sour properties, but nothing a little added sugar when baking can't handle. With my peaches and lambic ready to go, I set out to make a raspberry lambic peach tart.
This is a rustic tart. It's pretty, but not fancy. Perfect for enjoying in the backyard on a Saturday afternoon. The base is a raspberry lambic infused crust that is filled with ripe peaches drizzled with raspberry lambic strup and almonds. Once baked, the tart is best served with a scoop of vanilla ice cream. I highly enjoyed making this dish. Partly because it just felt so good to be home on a Saturday without an agenda, but mainly because it has been way too long since I have created something with beer. Enjoy.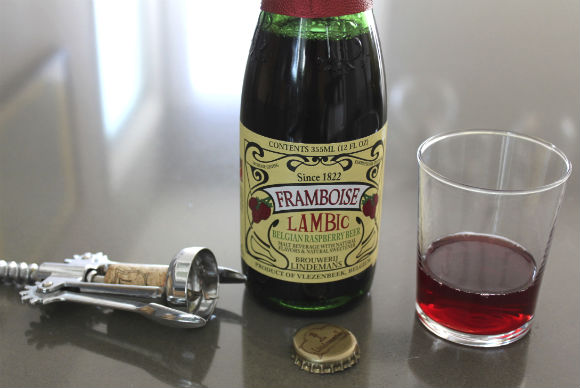 What you need
Crust
1 1/2 cups all purpose flour
2 tablespoons powdered sugar
1/4 teaspoon salt
1/2 cup (1 stick) chilled unsalted butter, cut into 1/2-inch cubes
3 1/2 tablespoons (about) chilled raspberry lambic
Lambic syrup
3/4 cup raspberry lambic
1/3 cup sugar
Filling
1/4 cup sugar
3 tablespoons all purpose flour
6 ripe medium peaches, peeled, halved, pitted, cut into 1/2-inch-thick slices (about 4 cups)
2 tablespoons raspberry lambic syrup
2 tablespoons chilled unsalted butter, cut into small pieces
2 tablespoons sliced almonds
What you do
For crust
Put the flour, sugar, and salt in a food processor and blend. Add in butter and pulse until pea-size pieces form. With the processor running, add enough cold beer, 1 tablespoon at a time, until moist clumps form and the dough starts to come together. Gather the dough into ball and flatten it into a disk. Wrap in plastic and let it refrigerate for 1 hour.
When the dough is chilled, roll it out on a lightly floured surface to a 12-inch round. This can be a bit tricky, so do your best! It doesn't need to be perfect. Transfer the dough to a tart pan with removable bottom (9 – 11 inches works best). Fold the overhang in and press to form double-thick sides. Press the inside edge of the crust to push it 1/8 to 1/4 inch of dough above the top edge of pan. Pierce the bottom of the crust with fork. Cover the tart pan and refrigerate again for 1 hour.
Preheat your oven to 400°F and bake the tart crust until golden brown, about 25 minutes.
For lambic syrup
Put the lambic and sugar in a small sauce pan. Over low heat, simmer the mixture for 30 – 35 minutes. The lambic should be reduced by about half and be a syrupy consistency. Pour into a bowl and set aside to cool. You will have a bit extra.
For filling/assembly
Mix sugar and flour in large bowl to blend. Add peaches and toss to coat. Pour the peaches into the baked crust. Drizzle the lambic syrup over the peach mixture. Next, dot with butter and sprinkle the tart with almonds an. Bake at 400°F until peaches are tender and almonds are toasted, about 35 minutes. Allow to cool a bit until serving.