This recipe was definitely an experiment. Thankfully it was one that ended with nice results, but not without some trail and error. The process to get to the end product is a bit unusual. It felt wrong at times and I was unsure about the final product at first, but I made a few tweaks and brought in some truthful taste testers to help ease my worries. After that all doubts (and cookies) were gone. I imagine when the milk stout was first invented some similar feelings were had. It is an interesting beer style with an ingredient you don't find in most beers.
Milk stouts, also known as sweet or cream stouts, are a British stout style beer made with the addition of lactose, which is a milk sugar. The lactose adds body, mild sweetness, and a creamy mouthfeel of the beer. The roasted malts add chocolate and coffee notes. They first came about in the late 19th century and gained popularity after WWII in England where they were touted as a healthy drink, most likely due to the association with milk, and were often consumed by lactating mothers and athletes. Eventually they fell out of favor in Britain, but have since become popular in South Africa and thankfully among U.S. craft brewers.
When I decided I wanted to make some craft beer cookies that had chocolate and coconut, the milk stout immediately came to mind as my beer of choice. The flavor profile makes them delightful beers to drink and fantastic to bake with. Pairing-wise, they go great with lighter chocolate desserts, like these cookies (a big, super rich chocolate dessert calls for an imperial stout that can stand up to it). To make these unconventional cookies, I created a chocolate milk stout sauce that gets worked into a dry cookie batter. You'll probably feel like you are doing something wrong during the making of these cookies, but when you're done you'll be rewarded with thin, chewy, subtlety sweet cookies that are addicting. There's something about them that will keep you coming back for more. I blame it on the subtly sweet, chocolaty/coffee goodness of the milk stout.
What you need
1 cup bittersweet chocolate chips
½ cup milk stout style beer (I used Left Hand's Milk Stout. My favorite.)
1 tablespoon butter + ½ cup butter
¾ cup unsweetened coconut
1 egg
1 cup brown sugar
½ cup white sugar
1 teaspoon vanilla
2 ¼ cups all purpose flour
2 teaspoon baking soda
1/2 teaspoon salt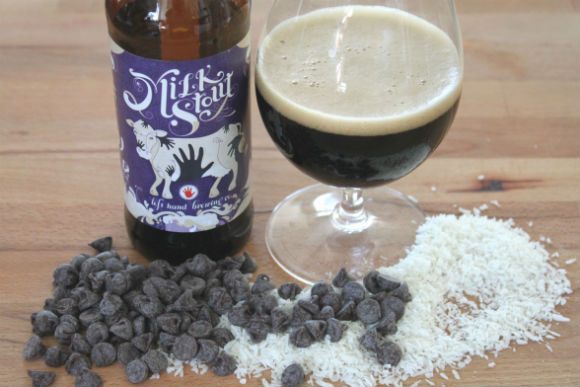 What you do
Start by making your chocolate sauce. To do this, setup a double boiler over medium heat (saucepan with a little water in the bottom with a heat proof bowl sitting on top of the pan, not touching the water). Add the chocolate chips, beer, and butter. Stir the chocolate until completely smooth and melted. This will take several minutes. Once the mixture is all melted, place it in the refrigerator to cool completely, at least 1 hour.
Next, put the coconut on a sheet pan and toast in the oven for 7 – 8 minutes at 300°, until nicely golden brown. Set aside to cool.
While the chocolate is cooling, make the batter. Put the stick of butter and both sugars in a bowl; beat on high until fluffy and well incorporated. Add in the egg and vanilla and mix until blended. Next, add the flour in a few batches followed by the baking soda and salt. Last, add in the coconut and mix to combine. Once the dough is finished gather it together with your hands and press it together to form a disc. The dough will be a bit dry and crumbly. That's Ok! Wrap the disc tightly in plastic wrap and place in the fridge until your chocolate is completely cool.
Once your chocolate has cooled completely, remove it and the dough from the fridge. Pour the chocolate mixture into the dough and work it into the dough by hand. You don't want to mix it completely. Just give it a few good mixes with your hands. You want it to have some lighter and darker areas. Using a spoon or scoop, put rounded tablespoons of dough on a cookie sheet. Bake at 325° for 15 – 17 minutes, until set on top (they will be a bit soft still). Allow the cookies to cool completely before eating.
To store, wrap tightly or place in an airtight container. They'll last for at least 1 week.