If you are looking to impress a crowd or need a thoughtful gift to bring a friend with minimal effort, these truffles are your answer. They are a super rich chocolate treat that look luxurious, but only require a few ingredients and minimal active time in the kitchen. I can confidently say that these are one of the most professional tasting and looking items I have created. I was inspired to create these truffles after making a jar of stout vanilla sugar. I really wanted to put the sugar to use. My first thought was to take the obvious route and make some sugar cookies topped with the beer infused sugar. But, I wanted the treat to have beer in it as well (double beer!) and sugar cookies just weren't sounding right for that. I don't remember what made me think to do a truffle, but I am glad I did. The sugar worked beautifully as a coating for them and added a fantastic crunch and depth of flavor to the truffle. I also used sweetened coconut and cocoa powder for coatings. While all good, you could really taste a difference in each one and the stout sugar coated ones were my favorite.
For the beer flavor in this truffle, I used Young's Double Chocolate Stout. It is brewed with chocolate malt and real chocolate, so it has an extra rich and slightly creamy flavor. I concentrated the beer before using it to create an extra intense flavor, which was certainly achieved in these truffles. Coffee and vanilla are added in to enhance the chocolate flavor. While Young's works great here, you can swap it out for any sweet stout or milk stout. This beer style typically has coffee and/or chocolate notes with a cream-like sweetness quality to them. They are great dessert beers both to drink and bake with. They also tend to have a lower bitterness level than dry stouts, which is another good quality when making something sweet. Various sugars are often added to this style, with lactose typically being used. This sugar is non-fermentable, which adds a residual sweetness to the beer. All in all, if you are making something sweet and chocolaty, a sweet stout is a great addition.
I am really excited about how my first original creation in 2015 came out and can't wait to get back to work in the kitchen this year. Things are starting off to a good start! In addition to beer recipes, I am finally hitting the books and studying hard for my Cicerone certification. I am taking the test in March and feeling pretty good about it so far. I hope to share some of what I am learning along the way with you while growing my beer expertise. Cheers to a great 2015!
What you need (makes about 20 truffles)
1/3 cup chocolate/sweet stout
4oz bittersweet chocolate
4oz semisweet chocolate
½ cup heavy cream
½ tsp vanilla extract
1 tsp coffee, optional (left over from the morning works great)
Stout vanilla sugar, cocoa powder, and/or sweetened coconut for toppings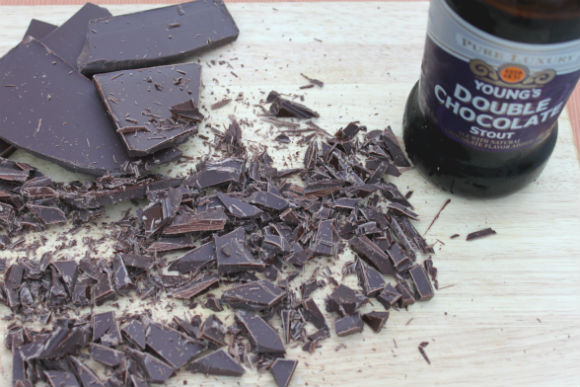 What you do
Heat the stout in a saucepan over high heat and bring to a boil for about 5 – 8 minutes, until it is reduced down to 2 tablespoons. Meanwhile, finely chop all of the chocolate and place it into a large bowl. Once the stout is reduced, set it aside. Heat the cream over high heat until it just begins to boil. Be sure to keep a close eye on the cream as it can burn quickly if it boils to long. Turn of the heat and stir the cream a few times. Pour the cream over the chocolate and stir until all the chocolate is melted. Next, stir in the stout, vanilla, and coffee (if using). Mix everything together and then place the bowl of chocolate into the refrigerator for 1 hour to set.
Once the chocolate is set, remove it from the fridge and scoop out balls of chocolate with a small ice cream scoop or two spoons and place on a parchment lined baking sheet (you can use your hands to roll the chocolate into a round ball if you want a more uniform look). Roll the truffles in your choice of toppings (stout sugar, coconut, cocoa powder, chopped nuts, etc.) and place back on the baking sheet. Put the truffles in the fridge to cool for 30 minutes and enjoy! Store the truffles in a covered container in the fridge where they will keep for several weeks.