Braising in a wonderful cooking technique that is easy to do and creates flavor packed dishes. It's a method that normally involves searing food at high temperatures and then finishing it off in a cooking liquid. To my delight, beer happens to make an excellent braising liquid for all sorts of dishes, including this chicken dish I am sharing with you today.
I have been thinking about making a dish like this for a long time and finally got around to it recently during a spell of "bad" weather in Los Angeles. This is a hearty, comforting meal that only uses one pan and is perfect for chilly evenings. I knew I wanted to make a braised chicken recipe, but hadn't thought about it much beyond that. After some research I decided that a darker ale would be the best choice for a beer and built the rest of the recipe around that. I went with Maredsous Brune, a malty Belgian dark ale with almost no hop characteristics and a touch sweetness. It has nice raisin and spice notes, so sticking with fall flavors to complement the chicken fit well. A mixture of onions, mushrooms and greens was the winning combination to go with the chicken. It all came together in one beautifully smelling and looking pot and tasted fantastic.
While great, I'll admit this dish is not my normal style of cooking. However, I was really proud of the finished product and would happily serve it to anyone. It felt good to create a comforting, easy meal that has reminds me of something you would see on a family dinner table in the South. I plated the chicken with a big scoop of the veggies alongside some baked polenta rounds. It would also be good with rice, cous cous, quinoa, or another grain to soak up the lovely broth. Have fun with this one dish marvel and feel free to change out the veggies, protein and even the beer for an endless combination of flavors.
What you need
1 medium onion, sliced into thin half moons
3 cloves garlic, chopped
4 – 5 cups hearty greens, such as kale, chard or mustard greens
2 cups mushrooms, quartered
2 lbs chicken, skin and bone on (preferably dark meat)
2 tablespoons olive oil
2 tablespoons thyme
1 cup chicken stock
2.5 cups dark ale (brown ales work nicely as well, as long as they are not too sweet)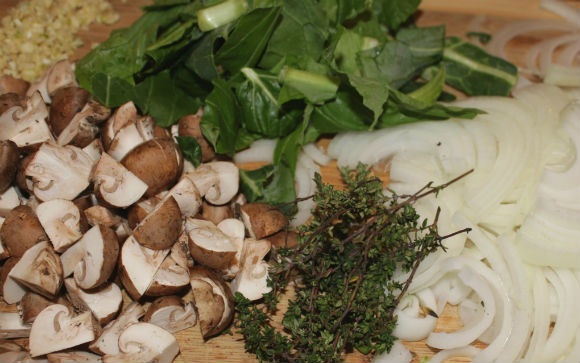 What you do
Start by generously seasoning both sides of the chicken with salt and pepper. Heat 2 tablespoons of oil in a large skillet with high sides over medium-high heat. When the oil is hot, but not smoking, add in the chicken. After 4 – 5 minutes, flip the chicken and cook for an additional 4-5 minutes. It should be crisp and golden brown on both sides.
Once the chicken is seared on both sides, remove it from the pan and set aside. Drain the excess oil from the pan and turn down the heat to medium. Add in the onions and sauté until soft, then add the garlic and cook for 1 more minute. Next add in the mushrooms and thyme. Give everything a good mix and season with salt and pepper. Add the greens in batches, stirring to combine and reduce after each addition.
Once all the greens have been incorporated, place the chicken back in the pan on top of your onion/mushroom/greens mixture. Pour in the beer and stock to cover the chicken. Cover your pan and reduce to a low heat. You want to bring the liquid to a simmer. Cook for 20-30 minutes, until the chicken is cooked through and tender. If you are using white meat chicken, the cooking time should be reduced or the chicken will get too dry.
Once the chicken is done, remove it from the pan and plate. I like to mound the onion/mushroom/greens mixture on a platter and place the chicken on top. Scooping a little of the liquid over the top makes a nice finishing touch.