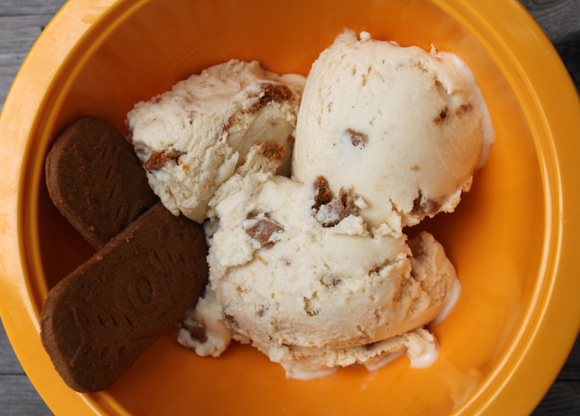 About two month ago I decided to break in my new ice cream maker by attempting to make my first batch of beer ice cream.  I choose to make a chocolate ice cream with espresso brownies and coconut using New Belgium's 1554. I had no idea what I was going to end up with as a finished product or if it would even resemble ice cream. I was ecstatic when I got not only a super creamy ice cream, but also one that tasted delicious and really highlighted the beer nicely. After my initial bite I knew this was going to be the first of many craft beer ice cream creations. My brain started going crazy trying to think of my next combination.  I knew I didn't want to do something chocolate based, but that was about it. Last week, however, that all changed when I found myself with a growler of Eagle Rock Brewery's Libertine in my fridge.
I have gotten into the (awesome) habit recently of picking up a growler of some local brew during the week so I have it ready to crack open as soon as I get home from work on Friday.  So, last week I made sure to bring my growler to Eagle Rock Brewery for a fill after their women's beer forum (which I recommend if you are in the area and of the lady variety).  I decided on Libertine and home I went. Friday after work I opened the growler up, poured a pint, took a sip, and my next ice cream became obvious.  With its sweet, smooth, and subtly spicy taste, it was screaming to be added to ice cream. I went on their site to see how they described the beer and here is what I found: "A witbier base gets a healthy dose of caramel malts, honey, and spices to produce a tantalizing elixir that defies traditional style boundaries." I love honey, so that was a must in the ice cream, but didn't seem exciting enough on its own. After a few more tastes, cinnamon seemed like a nice companion to both the honey and the beer. For the last addition, I wanted something crunchy for texture. My mind first went to some kind of nut. Walnuts? Almonds? Pine nuts? None felt right. Cookies! That seemed right. I travel a decent amount and have spent my fair share of time on Delta flights where they give out these cinnamon biscuit cookie things called Biscoff cookies and those seemed like the prefect addition. Thankfully, Trader Joe's has a knock-off version that taste exactly the same. I crumbed up a handful of those to add in at the end of my ice cream making and the recipe was complete.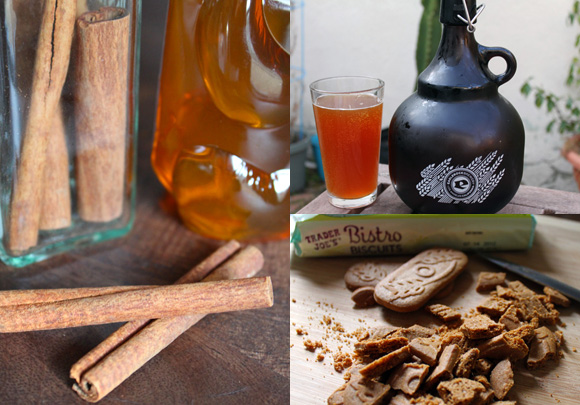 The technique I used to make this ice cream is exactly the same as last time with some ingredient changes. It produces a great end result, so why mess with a good thing? It seems a bit daunting, but making this recipe is really easy and the total active time where you are actually doing something is maybe 15 minutes tops. The end product is a super creamy ice cream packed with cookie crunch, light sweetness from the honey balanced by the cinnamon, and the perfect kick from the beer. Remember, this ice cream is alcoholic since I am not reducing/cooking the beer in anyway. I am really, really happy with how this turned out. I love everything about this ice cream and have  confirmed that beer ice cream is very addicting.
I think my next big challenge will be to figure out how to turn a super hoppy IPA into amazing ice cream. Any ideas?
Eagle Rock Brewery Libertine Honey-Cinnamon Crunch Ice Cream
What you need (makes about 1 quart):
1 1/2 cups + 2 tbls whole milk
1 1/2 tbls corn starch
3 tbls cream cheese, softened
1/8 tsp salt
1 1/4 cups heavy cream
1 cinnamon stick, broken into a few pieces
3/4 cup honey
3 tbls light corn syrup
1/4 tsp cinnamon
1 cup beer (I used Eagle Rock Brewery Libertine. Feel free to use another Wit beer or wheat beer with spicy, honey notes)
1 cup cinnamon cookie crumbles (I used bistro biscuits from Trader Joe's. They are the same thing as Biscoff cookies you get on a Delta flight.)
What you do:
Anytime you make ice cream, you should always start by making sure the bowl for your machine has had proper time to freeze. Once you've confirmed that has happened, combine 1.5 cups milk, 1.25 cups heavy cream, and the broken cinnamon stick in a large pot. Heat on medium to scald the milk (bubbles start to form around the edge of the pan, but the liquid is not boiling). Once your milk begins to reach the scalding point, remove it from the heat and allow the cinnamon stick to soak in the milk for 1 hour.
While that's soaking, mix 2 tbls of whole milk with the corn starch in a small bowl. It is important to make sure the cornstarch is completely dissolved to make a slurry, so mix well! Set that aside and then in a new large bowl, incorporate the cream cheese and salt together (you'll be adding a lot more to it later and need the room).  Set that aside.
When your milk/cinnamon mixture is finished seeping, add 3/4 cup honey, 3 tbls corn syrup and 1/4 teaspoon cinnamon to the pot. Bring the mixture to a rolling boil for 4 minutes (Be careful not to have the heat on full blast. Let it come up to a boil gently or you will burn the milk). After about 4 minutes of boiling time, remove the pot from the heat and slowly whisk in the corn starch slurry you made earlier (give it a stir before adding in since it has been sitting for a while).  Turn the heat back on the pot and let it come to a boil for about 3 minutes, until it has thickened slightly. Stir the mixture with a rubber spatula the whole time.
Remove the pot from the heat and pour a small amount of the hot mixture into the bowl with the cream cheese and whisk until things are smooth and well incorporated. Strain in the rest of the hot milk mixture with a wire mesh strainer (to remove the cinnamon stick pieces) into the bowl. Whisk the cream cheese/custard vigorously for a few minutes. Next, pour in the beer! Whisk some more until it's all incorporated. The hard part's done and it's all about being patient from this point on (which for some may actually prove to be the hard part).
Now you need to cool the ice cream base. You can do this however works best for you. I poured my custard into a container and plunged that into an ice bath (ice and water in a big bowl), then let it chill out in the fridge overnight. You should let it chill for at least an hour, longer if you can wait.  Once your ice cream base is super cold, add it to your ice cream maker and follow the manufacturer's instructions (which usually means turning it on and walking away).
Let it churn for about 25 minutes, then add in the cookie crumbles. You should add them in when the ice cream looks pretty much done. Use the add spout on the ice cream maker and put them in while it is still churning. Let it go for another 5 minutes or so, then turn off the machine. Scoop the ice cream into a freezer safe container and let it set for 4 hours or more in the freezer. After that, it should be ready to go. Scoop and enjoy!