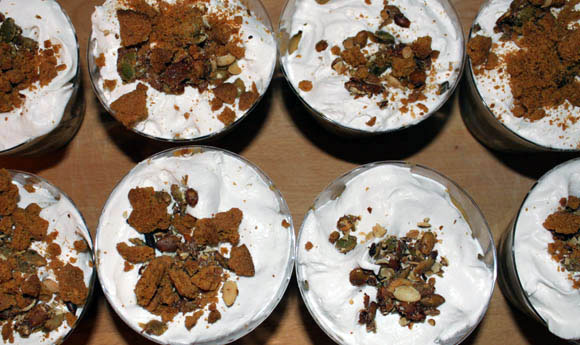 Despite going into this cooking project ready for a failure, I think it's safe to say this is the best beer/food creation I have concocted yet. I was pretty terrified about the idea of making pudding from scratch and with adding beer into the mix, I was well prepared for a complete disaster. Lucky me, it turns out that making pudding from scratch is super easy and the pumpkin beer I incorporated worked out beautifully. With a few ingredients, lots of whisking, and about 10 minutes, I had a creamy, sweet, and spicy pumpkin beer pudding. I used it to make parfaits that had layers of pudding, candied pepitas, and crushed ginger snaps that were topped with whipped cream. The end product was an elegant (and rich) dessert that would make the perfect ending to any meal.
When I set out to create my recipe I had a hard time finding legit looking pumpkin pudding recipes. Thankfully, Martha Stewart came to the rescue. I modified her recipe for pumpkin pudding to work in pumpkin beer. You can taste the beer in this recipe, so it's important to choose a brew you enjoy drinking on it's own. I choose to use Dogfish Head's Punkin Ale since in my opinion it is one of the best (least offensive) pumpkin beers on the market with just the right balance of pumpkin flavor, spices, and sweetness.
I ended up making two versions of the pudding. The first one had 1 cup of beer and only 1/2 cup of whole milk. It was really good, but I felt that the beer taste could be a little over whelming for some people. The recipe below is from the second batch I made that had only 1/2 cup of beer and 1 cup of whole milk. The beer flavor in this version is much more in check. However, if you are looking for a more in your face beer flavor, by all means, go for the 1 cup beer version!
As mentioned above, these are pretty rich, so small parfaits should do just fine. You can also make one big trifle and allow your guests to scoop out what they want. Either way, these make for a fun and unique dessert. I served them at a small party I had and my guests loved them. They have been asking me for the recipe since, so here it is. I can't wait to make them again as part of my Thanksgiving menu!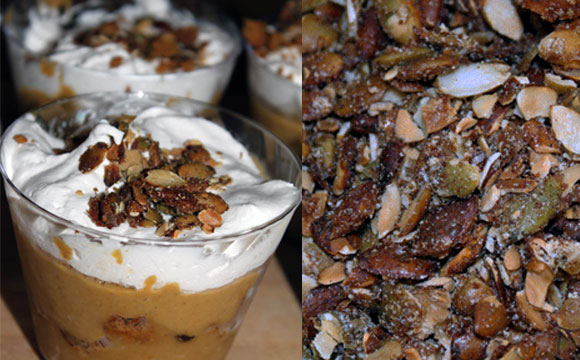 What you need (makes 4 cups):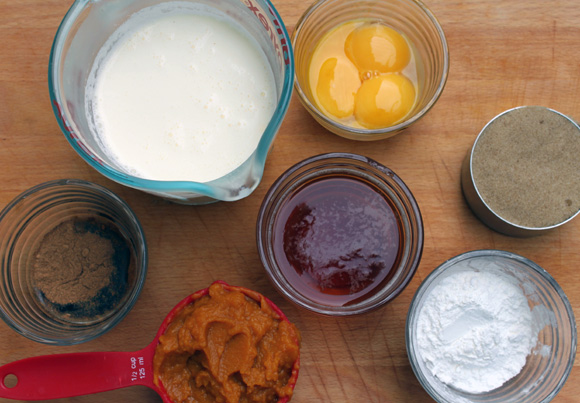 1 teaspoon pumpkin pie spice (plain cinnamon or nutmeg would also work nice)
1/2 cup firmly packed light-brown sugar
3 tablespoons cornstarch
3/4 cup whole milk
3/4 cup heavy whipping cream
3 large egg yolks
1/2 tablespoon molasses
1/2 teaspoon salt
1/2 cup pumpkin beer (I used Dogfish Head Punkin Ale)
1/2 cup pumpkin puree, or canned pumpkin puree
Whipped cream (I used a tub of store bought. Extra points for making your own.)
1 cup ginger snaps, crushed
1/2 cup of candied pepitas (I modified a Martha Stewart recipe for this. Omit the cayenne and replace the allspice with pumpkin pie spice or cinnamon.)
What you do:
To get started, put the cornstarch and brown sugar in a large heat-proof bowl and combine. Place the bowl over a pot of simmering water on the stove (your pot should only have a few inches of water in it. You don't want the water touching the bottom of the bowl). Add in the milk, whipping cream, egg yolks, molasses, and salt. Whisk the mixture constantly until it starts to thicken. This can take upwards of 10 minutes, so don't worry if your pudding isn't getting thick at first (I worried, but then all of a sudden it magically got thick). If for some reason your mixture is still really watery after 10 minutes, try adding in a little more cornstarch and turning up the heat slightly.
Once it starts to get thick, add in the beer while continuing to whisk constantly. Next, stir in the pumpkin puree and cook until very thick, about 3 – 5 minutes. When it has reached almost pudding consistency, remove from heat, place in a bowl, cover and refrigerate at least 4 hours to cool. The pudding will thicken as it cools.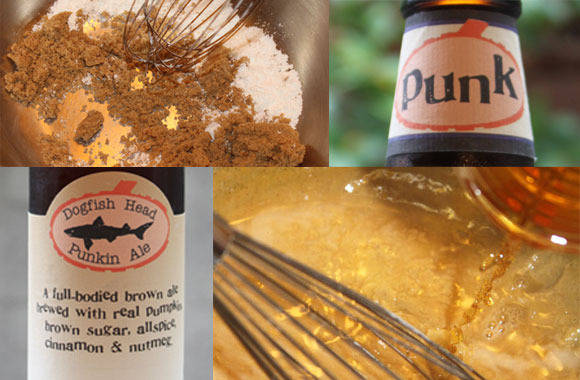 To assemble the parfaits, divide 1/2 of the pudding among 4 small glasses. Add a layer of crushed ginger snaps and pepitas to each glass, then top each one evenly with the remaining pudding. Top each parfait with some whipped cream and a sprinkle of crush ginger snaps and pepitas.  Done! I think even Martha would be impressed with these (and I bet she's not easy to impress).