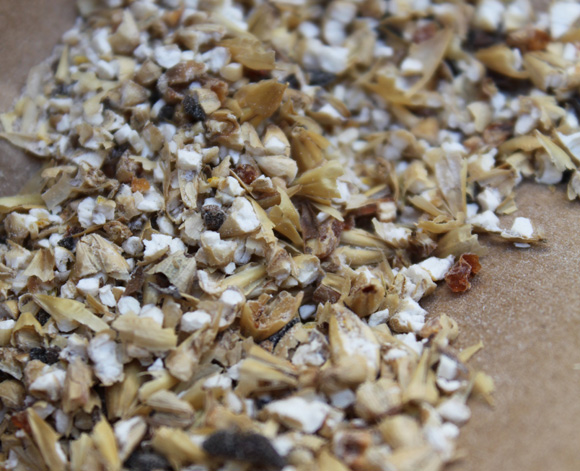 Yesterday was a very beer focused day for me. I started my day by turning the above beautiful grain into what I hope will be an equally beautiful holiday beer, then rushed to clean up and race across town to get to Golden Road Brewing before they closed. As any homebrewer knows, there is a lot of down time when brewing, so I found myself reading tweets and Facebook updates quite often and Golden Road won the prize for most enticing. Each new tweet added up to be something I couldn't miss: longer hours, pints and food. It appeared to be an impromptu soft opening for the restaurant and I wanted in. I rushed to finish brewing (super happy I bought 40 lbs of ice to speed cooling!), neglected to clean my equipment and took off. I rolled up about 6:30pm and had just enough time to enjoy a beer and sample their small but solid menu. (Note: The pictures below from Golden Road are pretty low quality. Sorry about that. With trying to make it on time, I neglected to bring a proper camera with me and the iPhone fell short).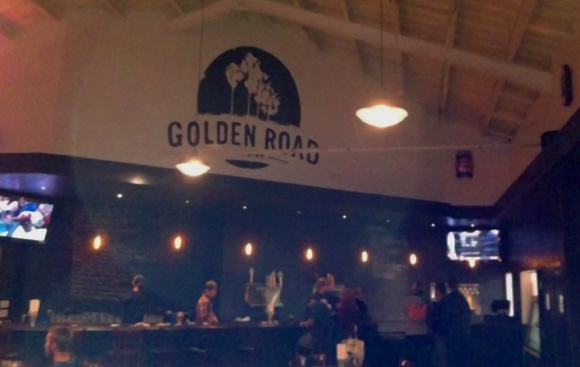 The restaurant is pretty much complete at this point—it's quite large and has a big open air patio. There was no music playing, which would have been nice, but overall it had a good vibe. I took a seat at the bar, grabbed a menu and ordered a Rye on the Palate. They had 5 Golden Road beers on tap and an unexpectedly large line-up of guest brews. The Rye on the Palate was absolutely fantastic. Brewer Jon stopped by to chat for a bit and told me the beer was developed by his assistant brewers, with his help. He wanted to see what they could come up with and the result was great. I also tried a sample of the Festivus Cinnamon Bitter, but found the cinnamon to be a bit intense for a whole glass. It grew on me more with each sip, but was not something I would want a whole pint of. Jon poured me a 1/2 & 1/2 made with Festivus and Schwartz Stout which was magical. The combo really balanced out the cinnamon and made for a warming holiday treat.
As for the food, the menu has a nice variety that can cater to a vegan, vegetarian or meat eater. Several things sounded good, but I was just looking for a snack, so I decided to go with a pretzel and the maple yam fritters. Both came out quickly and were delicious. The pretzel was perfectly light and fluffy and the vegan cheese sauce was awesome. The fritters were super crispy and not too sweet. The people next to me were raving about the duck confit sandwich, so I might have to give that a go next time. Overall, the food seems solid there. I'm pretty sure this was their first night offering up food and is not a regular affair yet, so I'm guessing the menu will be changing over time. I am excited to go back to try more and see how the menu evolves.
Hanging out at Golden Road after a successful brew day was exactly where I wanted to be. It has a casual atmosphere and good vibe, fresh beer and excellent food. They've got all the makings of a top notch neighborhood hangout.  I continue to be impressed by Golden Road's progress and how fast things are coming along. I can't wait to see this place fully up, operational and officially open to the public. There are endless possibilities for what they can do with that space in terms of events (it would make for an excellent movie/trivia night venue), so I'll be watching to see what they come up with.
Before I left, I grabbed a growler of the Rye on the Palate to bring to a party. I am excited to share the local LA beer love with my friends and even more excited to go back to Golden Road for a refill.