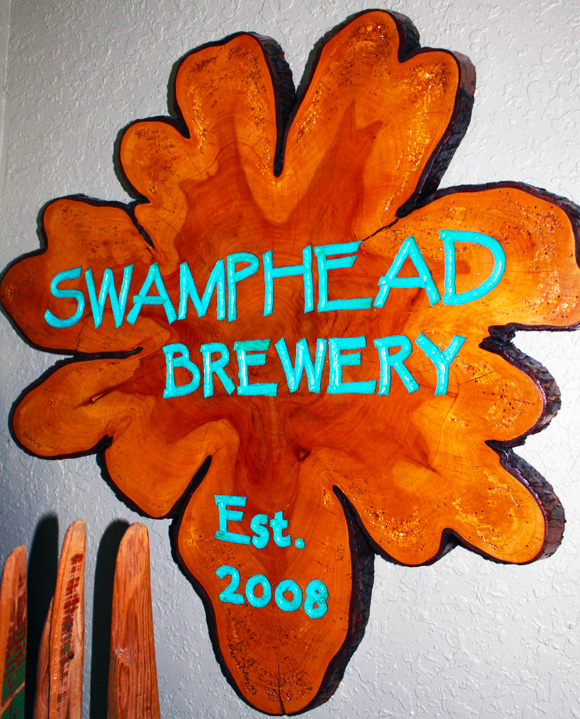 Back in September of last year I found myself heading to my college town of Gainesville, FL for work and took full advantage of the situation to check out the new brewery that had arrived since my departure over 3 years ago – Swamp Head Brewery.  I was excited to see what they had going on, and was happy that the brewery was doing really well in the town where my love for craft beer began.  On a whim, I emailed the guys at Swap Head before my trip to see if they would be Ok with me coming by to take some pictures and I got so much more. Their marketing manager, Brandon, invited me to the tap room where I got a great education and fantastic beer from this very Florida brewery.
When I pulled into the parking lot of the industrial park where Swamp Head is located, I immediately noticed the open warehouse doors that were showing off beautiful copper kettles and tanks. I was impressed as their set up was much bigger and nicer then I was expecting. To be honest with you, I don't know what I was expecting, but it wasn't the 10 barrel (310 gallons) set up with 5 fermenters (10 – 20 barrels) that I found. I wandered around the tanks for a while checking it all out as I waited for someone to appear. Brandon emerged and we went into the tasting room so I could try some of their beers and ask him lots of questions about all things Swamp Head related. Below a rundown on what I learned and the beers I tried.
The Brewery
As the first (and only) brewery in the Gainesville area, Swamp Head began official operations in November 2009. Their mission is to protect, represent and encompass the state of Florida in everything they do, and they do at great job at staying true to this. Craig (the owner) and Luke (the head brewer) were good friends and homebrew partners for quite a while and, as many homebrewers do, they had a desire to take it pro. That desire became a reality one day when Craig got a call from a friend of his that worked at a nearby retirement community letting him know they were closing down the onsite brew pub and the equipment was up for sale. (I found the idea of a retirement community brewpub to be quite amusing. I'm shocked it wasn't a success!)   Craig jumped on the offer and bought the equipment. It was soon put to good use brewing their first beer, Wild Night Honey cream ale. They have since expanded their portfolio and have 5 flagship beers and a rotating cast of limited releases.
Since opening their doors, Swamp Head has been gaining in popularity and their beers can be found in many Gainesville bars, as well as all over the state of Florida. They do not bottle or can the majority of their beers and when we talked they had no plans to do so in the future. I was lucky enough to snag one of the few beers they do bottle, the Swamp Head Saison, and brought it back to California with me to enjoy later. Fortunately for locals, you can get growlers from the tasting room to take home with you. In addition to a successful tasting room, Swamp Head has put on a number of beer dinners at local restaurants and also made a collaboration brew (a barley wine) with nearby Cigar City Brewing in Tampa. While I am bummed that none of this was going on during my tenure in Gainesville, I am thrilled to know it is taking place now and that there is a strong market for it.
The Tasting Room
The tasting room at Swamp Head is a casual and warm place. It is appropriately named 'The Wetlands' and carries their mission to represent the state of Florida quite well. The bar is made of beautiful, highly varnished wood. The stools at the bar look like tree stumps and are the heaviest bar stools I have come in contact with! Despite the challenge moving them, they complement the décor perfectly. The walls are littered with various medals and awards that the brewery has won, and rightfully so. I didn't meet a single beer of theirs I didn't like. There is a shelf running along the top of the wall that houses a collection of bottles from breweries all over the country, including many of my local favorites in Southern California. While I was there, someone came in to drop off two random bottles of beer for the crew to try. After the man left, Brandon told me that it a frequent occurrence at the brewery. They have done a nice job building a strong craft beer community.
The Wetlands only has Florida beers on tap. They feature their 5 year-round beers and have a few extra handles for their limited releases and craft beer from other breweries in Florida.  They are open Tuesday – Saturday for tasting, growler fills and hanging out. They don't have any food, so if you plan on stopping by, be sure to grab something to eat first. Given that this is the only establishment like this in town and Gainesville being a big college town, I expect the place gets pretty busy in the evening and on the weekends. Overall, the tasting room is a great place to hang out and drink a beer.
The Beers
Between visiting my favorite bars in Gainesville and hanging out in the Swamp Head tasting room, I was able to try all of their year-round beers and some limited releases. They brew a wide variety of styles and throw in some creative aspects to their beer, all while maintaining the strong Florida theme.
Currently Swamp Head brews 5 year round beers (descriptions taken from their website):
Wild Night – A light and refreshing cream ale brewed with Tupelo honey
Cotton Mouth – A fruity and refreshing Belgian wheat beer
Stump Knocker – A hop-focused American pale ale
Midnight Oil – A delightfully smooth stout with a pronounced flavor of locally roasted organic French roast coffee
Big Nose – A beautifully aromatic IPA
Being an IPA lover, my favorite of these beers is the Big Nose, but I also loved the Midnight Oil. I have yet to become a huge stout fan, but this one was so smooth and the coffee flavor was magical. It would make an out of this world milkshake.
In addition to their year-round beers they have an army of limited releases that they brew on a schedule they refer to as "spasmatic release". This pretty much means when they have the space and time to brew it, they will.  Lucky for me the beers they had spasmatically released at the time we really good and quite interesting.
The first limited release I tried was a porter called Smoke Signal, brewed with 150 lbs of cold smoked malt. It won 2nd best in show from the Florida beer fair. They also tapped a slightly different version of this beer for me to try called Chipotle Smoke Signal. It's the same beer, but with a little chipotle kick.  The chipotle flavor was light and had a delicate smoke flavor. Neither was so intense and in your face (which is a plus for me), but were noticeable enough to make the beer unique. They did a great job at getting the balance right.
Another cool beer I tried by Swamp Head was an imperial IPA they brew called 10-10-10. They make ten barrels of it, weighing in at 110 IBUs and 10% ABV. For their 100th batch of beer, they made a slightly different version called 10-10-100 to celebrate. For that one, they did 10 hop additions all with centennial hops.
The last beer I tried was called Black Water and is described as a Floridian dark ale, which was totally new to me. They used Chocolate wheat malt. The aroma is powerful, so I was worried it was going to be too intense for my liking, but it is was very drinkable, just like all their other beers.
I was highly impressed with my visit to Swamp Head and had a great time. Brandon's hospitality went above and beyond and I felt very welcome. It is great to see an operation like this in Gainesville doing so well and executing high quality craft beer.
Lucky for me, some time has passed since my visit to Swamp Head and it is now time for me to head back to Gainesville, FL for work once again. In just a couple of weeks I'll be back and can't wait to check out what's new with Swamp Head. If you're in the area, I highly recommend you do the same.