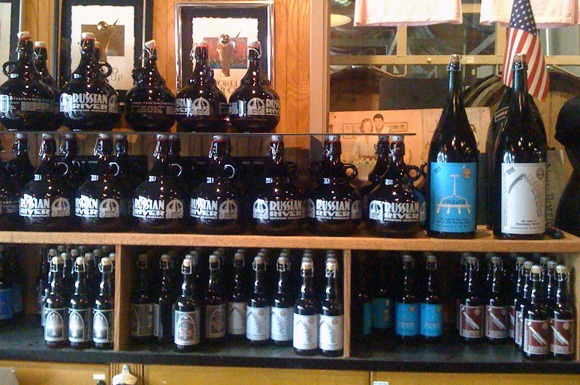 For the past 3 years I've been packing up my entire kitchen and heading up to San Francisco to celebrate Thanksgiving with one of my best friends. The day always ends up being a blur filled with lots of cooking in a cramped kitchen, copious amounts of booze, way too much food and a ton of fun. I wouldn't have it any other way. This year we took it up a notch and fried a turkey. It was glorious.  I decided to recover from the Thanksgiving festivities the day after by heading up to Santa Rosa, CA for a relaxing afternoon (where I didn't have to cook or chop anything) at the Russian River Brewery brewpub.
Russian River is one of my favorite breweries, so I was really excited about the visit. I was also starving and they have excellent Yelp reviews that rave about their pizza, so I couldn't wait to get there and eat.  It took us about 1.5 hours to drive there from San Francisco fighting through patches of holiday traffic. Overall, it is a super easy drive and makes for an excellent day trip from the city. We pulled into downtown Santa Rosa (which is really cute) a little past 1 pm and walked towards the pub. About a block away I could see a large group of people waiting outside – not a good sign for hungry, beer thirty patrons. We were told it would be about a 1.5 hour wait for two people which surprised me. I expected it to be busy, but not that busy! Thankfully I am an expert at getting seats at the bar, so in about 20 minutes we were happily settled at the bar with drinks in hand.  The brewpub is pretty big with a nice outside seating area, a large bar and big dining room with a stage for music. It is by no means fancy, but the vibe is just right. It was super packed the whole time and seemed like more and more people were pouring in as the afternoon went on, but no one was leaving. They were renovating the waiting room, which has a good view of the brewpub operations, so sadly I couldn't get too close to check it out.  It looks like it is going to be really nice when they are finished.
They have a large selection of Russian River beer on tap, which was heaven. They are all listed on a large chalkboard that is hung above the bar. I started with a Temptation, which was my favorite beer I had during the visit. It is a sour blonde that is aged in French oak chardonnay barrels and a member of the barrel aged ale series. I loved it. For food, we started out with a gorgonzola salad (red bell peppers, cucumbers, artichoke hearts & gorgonzola) and a primavera pizza (mozzarella, marinara, caramelized onions, mushrooms & olives). Both were good and went well with the beer, but nothing earth shattering.
Sitting at the bar was really fun with good company around us and a great overall atmosphere in the pub, so after our first round we decided to keep at it. We kept noticing these epic looking flights of beer that had samples of every one of their brews on tap. I was hesitant to order it because it looked like a pain in the ass for the bartenders to make, but after seeing a ton of them fly by me, I couldn't resist. I ordered the beer sampler and a few minutes later a glorious board filled with fifteen 2oz samples was placed in front of me.
The boards have bottle caps embedded in them that identify each bar. It was a bit overwhelming. We decided to start with the "normal" beers (the beers not from the Belgian style/barrel aged ale series). The Russian River porter was my favorite from that group. It was one of the most mellow and drinkable porters I have had.  It's a great one for someone who is just starting to venture into the world of porters or who is porter adverse. After those were taken down, we moved over to the Belgian style/barrel aged ales. I am a huge fan of these beers, so having the chance to drink all of them at one time straight from the source was a dream come true. The Temptation and Consecration were my favorite. Those are two fine beers. While I felt a little cheesy getting the beer sampler, it was totally worth it and only $15.
While we were working on the sampler hunger struck again, so we ordered a second pizza. Before you judge, they are very thin, light pizzas and one is just not enough for two people. This time we went with the clipper (mozzarella, pesto, artichoke hearts & bacon). It was better than the first pizza we had (the addition of bacon into food always helps) and was fantastic. I would highly recommend it. While we were chowing down on the pizza and sipping beer, there was lots of activity going on around us at the bar. I was shocked at how many people come in to get growlers, buy hundreds of dollars' worth of Pliny, and stock up on everything Russian River. At some point a guy came in and asked for two cases of Pliny the Elder with a note from the owner saying it was Ok for him to buy them (I guess the limit is normally 1 case). It cost him $240 and was a funny transaction to see go down. Most of the bar instantly wanted to become his friend. At another point, someone came in and tried to get their Stone brewing glower filled with Russian River beer and got denied. You must buy one of theirs.  Good times at the bar.
While we didn't walk away with $240 worth of Pliny, we did our fair share of stocking up. Two bottles of Consecration, one bottle of Temptation and one bottle of Supplication made the trip back to LA with us. I also got an awesome shirt.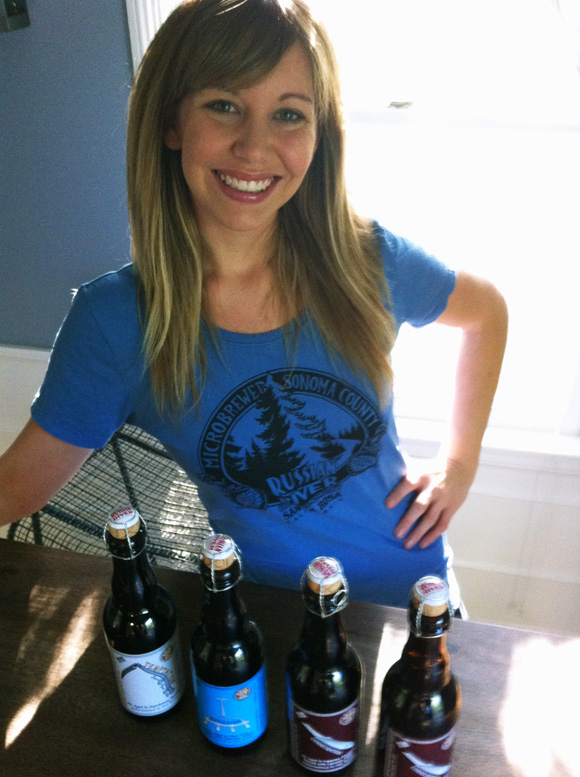 The trip to the Russian River brewpub was fantastic and I have no complaints. I would highly recommend a visit to anyone that is in the area. It's guaranteed to be a good time and a place I like to drink. I can't wait to go back.