One year ago, I was getting ready for what would be one of the greatest moments of my life- competing in and winning a trophy at the Grilled Cheese Invitational (GCI). GCI is an amazing event that takes place one a year in Los Angeles where amateur and professional grilled cheese chefs come together to make the most delicious, innovative, and wackiest grilled cheeses they can think of, all for the glory of becoming a grilled cheese champion. 2011 was my first year competing and I had no idea what to expect. I, of course, had to enter something beer related, so I decided to make a sandwich for the Kama Sutra category (anything goes) called 'The Beer Baron'. This beauty of a sandwich consisted of homemade spent grain bread with brown ale, Telegraph Brewing porter braised pulled pork, mounds of Vermont cheddar, and picked onions. I served it alongside an Allagash White cole slaw (recipe from The Beer Bistro Cookbook) and glory was made.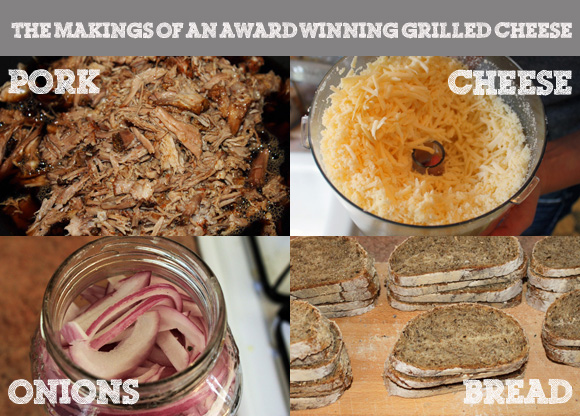 For the competition, you have to serve up enough gooey samples to feed a panel of executive judges and the hungry crowd. The heat went pretty flawlessly and it was an awesome time. One of the executive judges was the local New Belgium Beer Ranger (his name was Dallas), so he stopped by to check out the baron. Once my round was over, I retired to the craft beer garden and anxiously waited for the awards ceremony to begin. It took a while, but eventually the speaker called out The Beer Baron and up on stage I ran to claim my trophy. I could hardly believe I had just won a large trophy with a clay grilled cheese glued on top, but I couldn't have been prouder.
A year later, I am now gearing up for the 2012 GCI with not one, but two beer focused creations. This year I am branching out and making a dessert grilled cheese for the Honey Pot category in addition to one for the Kama Sutra category. I am hoping to bring home another trophy to add to my living room shelf, but even if that doesn't happen, GCI is always a great time. I'll post the recipes and results of the contest after the competition on 4/28/2012, so standby! And if you are going to GCI this year, be on the lookout for my sandwiches and throw some points my way.
Below is the recipe for the Beer Baron that won me this amazing trophy last year. It's really easy to make (especially if you buy store bought bread). Grab some butter, beer, cheese and get grilling!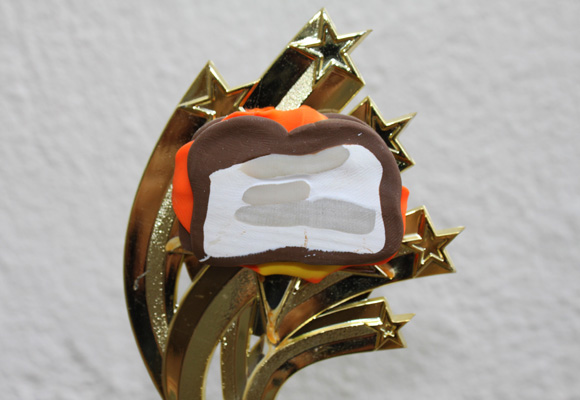 The Beer Baron
What you need (recipes for the individual components are below or linked in the list)
Porter braised pulled pork
Spent grain bread with brown ale (or another hearty, flavorful bread)
Picked onions
Grated Vermont cheddar
Butter
What you do
Begin by making your porter braised pulled pork. You might want to start this the night before or first thing in the morning before you plan on making your grilled cheese. Next, make your picked onions as they need time to set as well. Once those two components are ready to be used, prep the rest of your ingredients and get ready to grill.
For each sandwich, you will need two slices of bread, a generous mound of grated cheese, a handful of onions, a few tablespoons of butter, and a handful of pork. To assemble, place grated cheese on one side of the bread. Next, put a layer of pork and picked onions on, then top with one more layer of cheese (that way you have grated cheese on both sides of your bread). Put a slab of butter in a pan and heat on medium. Once your butter is melted, carefully place the assembled sandwich in it. If you have one, place a sandwich press or other heavy object on top of the sandwich and allow it to grill for 3 – 4 minutes. One it is crisp and the cheese begins to melt, flip and grill for an additional 3 – 4 minutes.
Remove from the pan, slice, and eat.
Porter Braised Pulled Pork
What you need
1.5 pounds pork shoulder or pork butt
Spice rub (pick your favorite kind. I used Rub with Love)
1 750ml bottle of porter (I used Telegraph Brewing Co.)
½ bottle good quality BBQ sauce
What you need to do
This pork is super easy to make. First, coat the pork with a moderate layer of the rub on all sides. Place the pork into a slow cooker and pour about ½ of the bottle of porter over the pork. It should be a little more than half submerged in the beer. Cover the slow cooker and let it do its thing on low for 8-10 hours. I like to do this part before I leave for work in the morning, so that I can come home to an amazing smelling house, and a near-ready meal.
Once the pork is finished cooking in the slow cooker, remove it and flake it apart with a fork – it should be tender and fall off easily. Move the pork into a large skillet with high sides. Pour the rest of the beer over the pork and add about ½ the bottle of the BBQ sauce. Mix the pork to combine and turn the heat on high to bring to a boil. When the liquid starts to boil, lower the heat to simmer the pork for about 15 – 20 minutes or until most of the liquid is gone.
When most of the liquid is gone, you are left with super tender and flavorful pulled pork that is ready to eat.
Picked Onions
What you need
1 medium red onion, thinly sliced (about 1 cup)
1/2 cup red wine vinegar or apple cider vinegar
1/2 cup water
1 tsp. sugar
Kosher salt
What you do
Put the vinegar and 1/2 cup water in a sauce pan. Add the sugar and a few sprinkles of salt.  Heat the mixture on medium until it begins to simmer. Put your sliced onion in some kind of sealable container (I used an old jar) and pour the hot liquid over them. Let it stand for about 30 minutes, then put the container in the fridge. Allow them to cool completely before using.
These can be made up to 3 days ahead of time and keep pretty well in the fridge.