Yesterday afternoon as part of the LA Beer Week festivities, greatness happened at the 3rd annual Beer Float Showdown. 5 chefs (including 2 former contestants of Top Chef) paired up with 5 local breweries to form the ultimate beer float making machines. Each team was tasked with creating an original beer float consisting of beer, ice cream, and whatever else they could think of to make their boozy floats stand out. Craft beer and food loving folks alike gathered at the heated battle field (AKA Eagle Rock Brewery) for the afternoon to watch these floats being dished out and more importantly, to taste and carefully judge each and every one to decide who was the ultimate beer float master. The concoctions were judged on 3 categories: Flavor (1-5 points), Originality (1-5 points), and Presentation (1-3 points).
Here is an overview of each of the teams and their beer/ice cream creations:
Team: CJ Jacobson of The Yard, contestant on Top Chef season three, and Jace Milstead, Certified Cicerone and L.A. representative of the fourteen-time GABF gold medal-winning Firestone Walker Brewing Company.
---
Team:
Laurent Quenioux of Vertical Wine Bistro and LQ@SK, contestant on Top Chef's upcoming ninth season, and Julian Shrago (brewmaster) and Gabe Gordon (owner) of Beachwood BBQ & Brewing.
---
Team:
Andre Guerrero and Jan Purdy of The Oinkster and Maximiliano, and Jeremy Raub, owner and brewmaster at the GABF gold medal-winning Eagle Rock Brewery.
---
Team:
Thi Tran and Nguyen Tran of Starry Kitchen, and Dave Griffiths (owner & brewmaster) and Cyrena Nouzille (owner) of Ladyface Ale Companie.
---
Team:
Ilan Hall of The Gorbals, winner of Top Chef season two, and Jonathan Porter, the GABF gold medal-winning brewmaster of Tustin Brewing Company.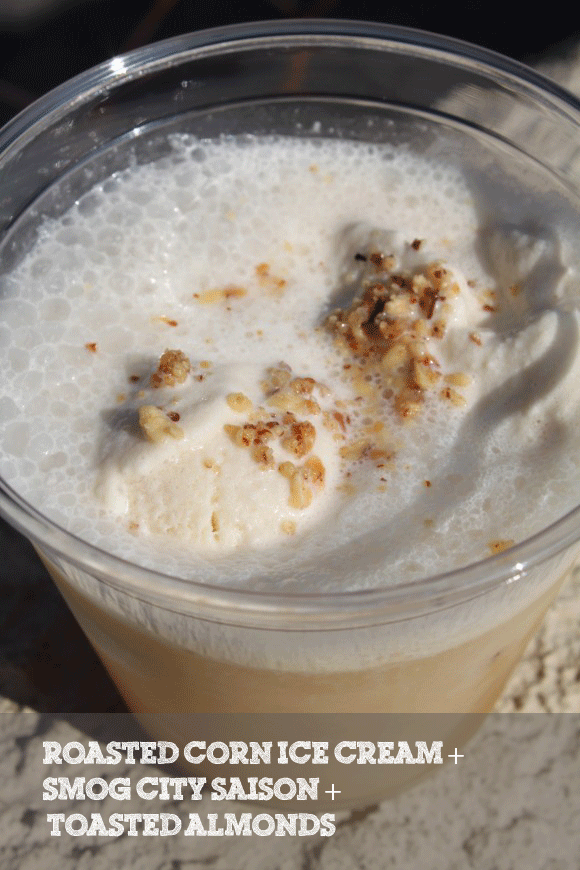 When it came time to rate each of the floats, it was really hard. 4 out of the 5 floats were fantastic. Unfortunately the roasted corn + saison float just tasted off. The individual components on their own tasted fine, but when combined something went wrong. My favorite was the toasted hop caramel ice cream + hemp ale. The potato chips rimming the glass were a great touch. Also, CJ was making the ice cream using liquid nitrogen right in front of you before serving, so their presentation was hard to beat. The others were a very close second for me with each having their own appeal. The Eagle Rock float was the only chocolate based one and it involved bacon, so of course it was great. That float ended up being the crowd favorite taking home the glory of best beer float and a whopping $500. Overall, this was a great way to spend the afternoon and a fun twist on a beer based event. Below are a few more pictures of what went down.