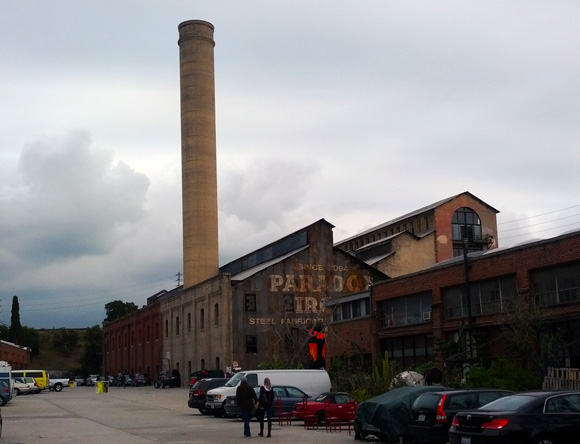 Yesterday I was craving something new, something I had never seen before, a different experience. I found what I was looking for in the form of the Brewery Art Walk at the Brewery Arts Complex in downtown LA. The name of the complex and event are deceiving. While there was craft beer being served, this place is all about the art. The complex houses hundreds of live/work spaces that many LA artists call home. It is one of the world's largest art complexes and they open their doors to the public twice annually for the walk.  The complex is a huge maze filled with beautiful industrial buildings, gorgeous plants, and studio after studio with lots of eclectic art.
The complex gets its name from its former life as a brewery. The first building was completed in 1903 and over the years, the grounds were home to several different  breweries, including Pabst Blue Ribbon. In 1982 the complex was transformed into the artist space it is known for today. However, traces of its past life can be seen throughout.  This place has a fascinating history, but unfortunately I could not find out much info on the web about it. While I was at the event I read a poster that had great info about the place that I wish I could remember. I'll have to do some more hardcore research and write a second post about the complex's history. In the meantime, I wanted to share a few photos I took yesterday while walking around.
The event was great and exactly what I was looking for. I spent the afternoon walking around a former brewery turned massive art colony, drinking Pliny the Elder (they had quite a few great beers on tap at the onsite bar), and looking at pretty crazy art. If you are in the LA area, I strongly suggest you be on the lookout for the next walk they put on and check it out.