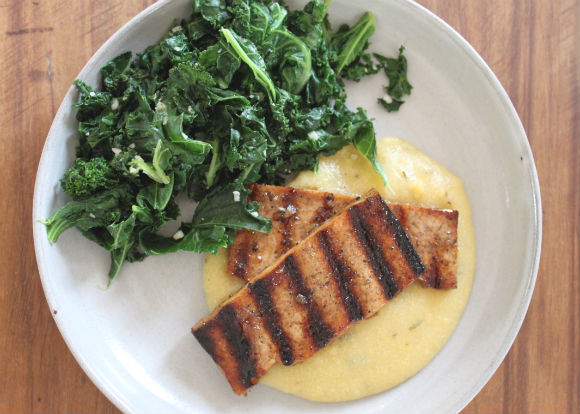 Hello! I am finally returning to the blog world after a several month hiatus. I had to take care of some life things (all good stuff, don't worry).  During that time I was not able to put the thought and effort into creating great recipes and content, but I had time to think a lot about The Beerista and where I want it to go.  I am more excited then ever to get back to sharing my passion of craft beer with you through food, education, and fun and to make some long overdue changes around here.
To ease back into the craft beer blog world, I made a quick and satisfying stout grilled tofu.  I know beer and meat is a much more popular combo than beer and tofu, but to be perfectly honest, I eat meat pretty sparingly. I don't exclude anything from my diet and will try anything, but my home base is vegetables and plant proteins. Also, I just got back from spending the weekend working at a fantastic event called Cooking for Solutions where I overindulged just a little. While at the event I served up some porter and caramel ice cream floats, taught a beer + food pairing class, and hung out with an octopus. It was a great weekend! After all the indulging though, some tofu and greens were in order for dinner.
The stout marinade in this recipe is filled with aromatics that transforms the tofu into a savory, almost meaty main dish. After letting it marinade to soak up all the flavors, I grilled the tofu on a stovetop grill plan while glazing it with extra sauce. You can panfry it as well using the the glaze method if you don't have a grill pan.  I was craving something southern-ish and comforting, so I served the tofu on top of rosemary polenta and with a side of garlic kale. You could use the stout tofu on salads, as a sandwich, add it to stir fry, etc. It is pretty versatile. You could also use the stout marinade for ribs or steak incase tofu just isn't your thing.
Stouts in the kitchen: Stout is a great beer to cook and bake with. It has very low hop bitterness in general, so you can reduce it without worrying about unpleasant flavors. Also, the roasted maltiness of the style is a great platform for savory sauces and marinades. It pairs well with grilled meats, hearty foods, oysters and cheddar cheese. Stouts have a long and complicated history dating back as far as 1630. American stouts, which I used in this recipe, tend to be a bit more on the bitter side then than a traditional English stout. Both styles are dry and/or sweet. Stouts are a great food beer both for pairing and cooking with!
What you need
12oz extra firm tofu
2 tbls finely chopped shallots
2 cloves garlic, finely chopped
1 tsp paprika (not a smoked variety)
2 tbls honey
2 tsp worcheshire sauce
12oz bottle of stout beer
 What you do
Start by pressing the tofu to get the excess moisture out of it. This allow for the tofu to soak up more marinade. To do this, remove the tofu from the package and give it a gentle squeeze. Cut the tofu into 1/4 " thick  slabs and lay them on a clean dish towel. Fold the dish towel on top of the tofu and place a sheet pan or platter on top of it. Weigh it down (I use cans of beans to do this) and let the tofu sit for 20– 30 minutes.
While the tofu is pressing, make the marinade. Start by heating a splash of canola or vegetable oil in a saucepan over medium heat. Add the garlic and shallots, sauté for 2 minutes. Season with salt and pepper then add in the honey, paprika and worcheshire sauce. Stir well. Pour in the stout, stir and turn the heat down to medium-low. Simmer the marinade for 2 – 3 minutes, just to combine the ingredients. Place the pressed tofu in a shallow container or zip top bag and pour 2/3 of the marinade over the tofu. Seal the bag or container and place in the fridge for 12 – 24 hours. Return the remaining marinade to a medium-low heat on the stove and simmer for 5 more minutes. Remove from the heat, cool, and store the sauce until it is time to grill the tofu.
When your tofu is done marinating, heat a grill pan over medium heat. Brush the pan with oil to ensure the tofu doesn't stick. Remove the tofu from the marinade and season generously with salt and pepper. Once the pan is nice and hot, add the tofu. Let the tofu grill on one side for 3 minutes and brush the tofu with the stout sauce. Flip the tofu and grill the other side for another 3 minutes and generously brush the top of the tofu again with the sauce. Do this two more times so that each side grills for 6 minutes total. Brush the tofu with one last glaze of sauce and remove  from the pan.  Serve as desired.