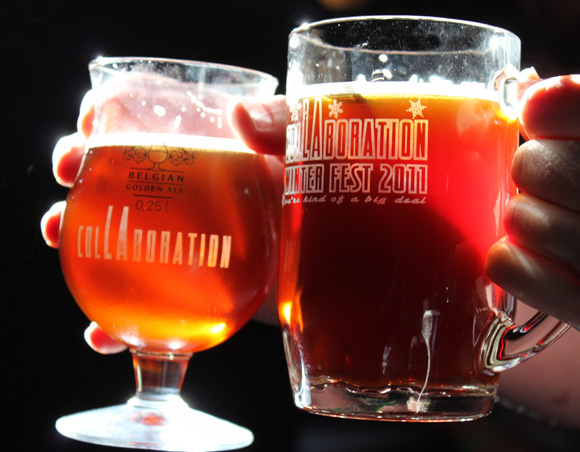 Great beer and good company were in abundance this past Sunday at the latest CoLAboration mobile craft beer garden, WinterFest. The event was held at the beautiful Belasco Theater in downtown LA, which made for one of the most unique venues for a craft beer event I have ever been to.  The selection of beer was overwhelmingly impressive and the company was in top-form. All in all, it was a great way to spend a sunny Sunday afternoon and I'm really glad I was able to make it.
For these events, the folks behind some of the best beer bars in LA (Tony's Darts Away, Verdugo Bar, 38 Degrees, Surly Goat, Blue Palms, and Mohawk Bend) pull together to wrangle up an impressive and extremely varied line-up of kegs from some of the country's top craft breweries. The result ends up being a pop-up beer bar with one of the best tap lists you could ever hope for.  When I first got there I made a lap around the venue to scope out what each bar was offering and had a hard time making my choice. The beer selection at each of the bars changed frequently throughout the day to keep things interesting. Some of the highlights from the beers I tried were Drake's Hopocalypse and Lagunitas cappuccino stout. Dogfish Head World Wide Stout, The Bruey Chocosaurus Rye, and of course Russian River Pliny the Younger all pulled large lines from the crowd as well.
The Belasco Theater was a really interesting choice for a venue and I wasn't quite sure about it at first, but it quickly grew on me.  It was pretty dark inside with a night-club vibe going on. They had lots of colorful lights swirling around and a movie playing on big screens (called "Strange Brew"). There were several bars sprinkled throughout the theater, each offering a different set of beers to try. Lines were pretty tolerable throughout the event as long as what some would consider to be an extra special beer (like Pliny) wasn't being offered right then. Outside, there was a patio and balcony to enjoy the bright, warm, sunny day (got to love winters in California). There was a stark contrast between the inside and outside in terms of the vibe. I found myself gravitating towards the outside more often, but it was fun to dip inside from time to time. Outside offered nice views of downtown LA and more importantly, multiple beer pong tables and a makeshift bar.  The only thing I found lacking was food. They did have a limited menu being offered, but nothing sounded super amazing and when I did try to order something, I was told the kitchen was too backed up and I would have to come back later to order. With all those high ABV beers and day drinking, it would have been nice to have access to a wider verity of food, but it was a small inconvenience to an otherwise fantastic event.
For those of you that have yet to experience a ColLAoration event, I highly suggest you get in on the action and checkout the next one. It's a pretty good deal, beer selection is great, and it's a really good time. Just be sure to eat a hearty meal ahead of time! Below are some pictures I took throughout the day. Hope to see you at the next one!