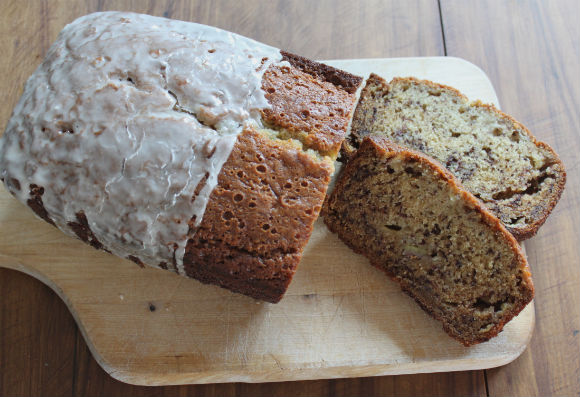 When I was growing up my mom made the best banana bread. It was always super moist and delicious. When I got old enough to start baking myself, I started to make the banana bread and was surprised to discover that, a) the recipe was from a very random early 90's cookbook and b) it was really easy to make. This is the only banana bread recipe I make and it has never let me down. With a few ripe bananas in my fruit bowl, I decided it would be fun to add a bit of beer to this recipe and see where it goes. It went to a good place. The result was still very similar to the banana bread I have grown up loving, but with some nice wheaty notes and hints of clove from the beer. To up the ante, I made a hefeweizen glaze and topped half the loaf of bread with it. You can serve this as is and it will be great, but the glaze elevates it from a comforting breakfast or afternoon snack to a dessert worthy-treat.
The beer I used for both the glaze and the bread is Sierra Nevada Brewing's Kellerweis. This is a true Bavarian hefe, which means lots of great banana and clove flavors. Any traditional German style hefe will do here. Bavarian hefeweizens are unfiltered wheat beers with an average ABV of around 5%. The word "hefe" means yeast in German, which is what this beer style is all about. The hardworking yeast is a top-fermenting ale yeast that creates wonderful above average esters (banana flavor) and phenols (clove flavor) that mark this easy drinking style of beer. The beer is so easy to drink and so refreshing that I often tout it as an excellent breakfast beer! Banana bread + a tall glass of hefe? Sounds like a great Sunday morning in the making.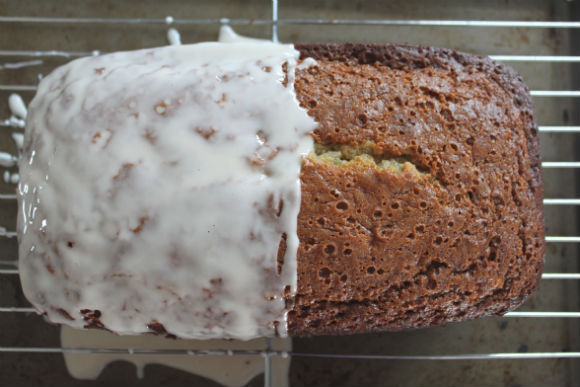 What you need:
Bread
1 1/4 cup all purpose flour
1 cup sugar
½ tsp salt
1 tsp baking soda
2 eggs, well beaten
½ cup hefeweien
½ cup butter, softened at room temperature
2 – 3 ripe bananas, mashed (Depending on size. Use 2 large or 3 small/medium.)
Glaze
1 cup powdered sugar
2 tbls hefeweizen
1/2 tsp vanilla extract

What you do
For the bread: Start by pre-heating your oven to 350 degrees. Next, put all the dry ingredients in a large bowl and add in the softened butter. Mix in the butter until you get a dry, crumbly consistency. Add in the beaten eggs and stir a few time, then add in the beer. Mix until everything in combined, then add in your mashed bananas. Give everything a few more good stirs. Pour the batter into a greased loaf pan and bake for 55 – 60 minutes, until the bread is browned and a toothpick comes out clean when inserted into the center.
For the glaze: While the bread is cooling, make the glaze if using. Put the powdered sugar, beer and vanilla in a bowl and mix well. You should have a nice glaze that will easily pour onto the bread, but will be thick enough not to slide right off. Add more beer if the mixture is too thick or more powdered sugar if it is too thin. Once the bread is cool, pour the glaze over the top and let it harden for 1 hour before cutting.