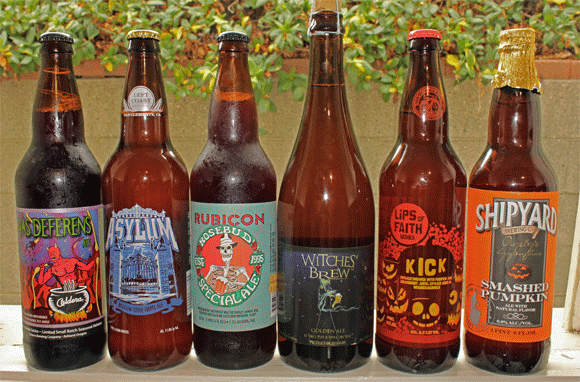 Over the past couple of months I have managed to acquire a collection of beers that have Halloweenish labels. It started when I set out on a quest to buy a bunch of different pumpkin beers for a "The Best Pumpkin Beer" post, but I found the selection at the store seriously lacking. Plus, that post has been done a million times (and I don't really like pumpkin beer). I started to notice a bunch of beers with Halloween type labels and soon had a few in my basket. After that, every time I went to a store that sells alcohol I would check for beers with cool looking Halloween labels. I ended up with 6 fantastic bottles to put to the test. Doing a tasting with just myself would have been a waste since they were all bombers, so I set out to host my first beer tasting. I had about 14 people coming over for a pumpkin carving party and figured they would be the perfect test subjects.
For the tasting, I created a simple tasting sheet that had the name and commercial description of the beers on it and colums for the scores. I asked them to rate each beer on three factors: Taste (1-5), label (1-5) and would you want to drink a whole pint of this beer (y/n). Since this was my first time putting on a tasting and the participants are by no means card carrying BJCP judges, I wanted to keep it simple. Next time I will add in a few more factors for judging such as smell.
With everyone was sitting around a big table and slowing down on dinner, I brought out a hodgepodge of tasting glasses, the 6 open beers, and tasting sheets. I didn't know how the activity was going to be received because it was getting late in the evening and everyone seemed to be getting tired (and had already eaten and drunken a lot). To my delight, the group perked right up and got really into the tasting. After quickly explaining the score sheet, bottles were being passed around the table, friendly disagreements about which beer was the best could be heard, and label design critique was all over the place. There were a couple of standout favorites of the whole table, but all 6 beers found a fan in someone.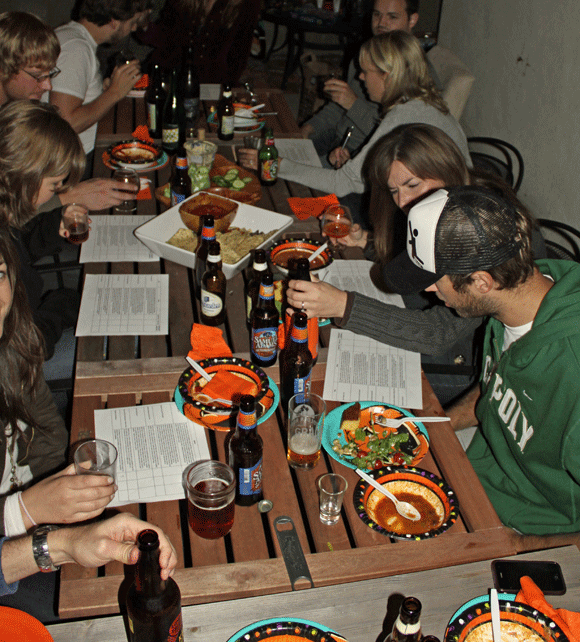 Here are the results of the tasting
(note: The scores are the average of the 11 score sheets turned in)
The beer tasting was one of the best things I have done at a gathering. Everyone had a great time, it was simple, and fairly cheap. The 6 beers were more then enough for the 14 tasters to have seconds and thirds. In addition to the entertainment value this provided, I was also able to educate some of my friends that have a go-to beer of PBR on the wonders of craft beer. The theme possiblities for a tasting are pretty much endless, so have some fun and add a beer tasting to your next get together.