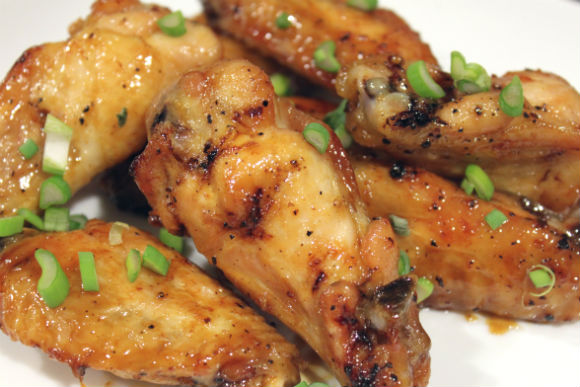 Greetings everyone. I hope you had a nice weekend and your week is off to a great start. I spent my weekend beachside, reading about beer, and drinking pilsners. It was 78 degrees in Los Angeles and I loved every minute of it. I have been devoting some time this week to menu planning for Sunday, which to me is one of the ultimate food + beer days: The Super Bowl! I'm having people over to my house and am going to make a huge platter chicken wings, the ultimate Super Bowl food, Beerista style.
I wanted to find a way to make a spicy-sweet sauce for my wings with beer incorporated into it. To get the sauce thick enough to coat the wings while using enough beer to get the flavor, I'd need to reduce the beer. That means being very careful about the beer you choose. Anything with too much hop bitterness will be amplified when reduced, making the end flavor in the dish unpleasantly bitter. When trying to figure out the perfect beer to use, my reading from the past weekend came to mind. I read the "Beer and Food" chapter from Randy Mosher's Tasting beer, something I have read many times. In this chapter Randy Mosher suggests "when it doubt, go Belgian" if you are looking for a beer to bring to a dinner party to pair with food. Dubbels and tripels are well-balanced beers big enough to handle most foods, but with moderate malt and hop bitterness that won't overwhelm. This seemed like a great choice for my wings. A beer that was bold enough to stand-up to the butter coated, crispy wings, but balanced enough to not end up overly bitter from the reduction. Of those, a tripel has great fruity and spicy flavors. Perfect.
Belgian tripels are beautiful beers with nice spice flavor and aromas from the hops and yeast, citrus fruit aromas, and are well balanced. I used New Belgium Brewing's Trippel for this recipe, but any traditional Belgian tripel will do. I liked New Belgium's for this because you can get it in a 6-pack as oppose to a 750ml bottle, which means you can open 1 bottle to use in the sauce and save the rest for drinking. They also brew it with a small amount of coriander, which complements the spicing in the sauce. For the wing sauce I combined the beer with honey, which adds a nice sweet flavor to complement the spice and cut any remaining bitterness from the reduction. To bring out the spice in the beer a bit more I also added in a healthy amount of freshly ground black pepper and coriander. The resulting combo is a nice deep golden sauce with a balanced sweet and spicy flavor, a lot like the tripel. They are so, so, so good. I can't wait to serve these on Sunday to my friends along side lots of beer.
What you need
Wings
5 lbs chicken wings (drums & flats separated, tips removed)
1 tablespoon melted butter, unsalted
2 tablespoon canola or vegetable oil
Salt and Pepper
Sauce
12oz Belgian style tripel (I used one from New Belgium)
1 teaspoon freshly ground black pepper
1/2 teaspoon coriander
Pinch of salt
½ cup honey
2 garlic cloves, crushed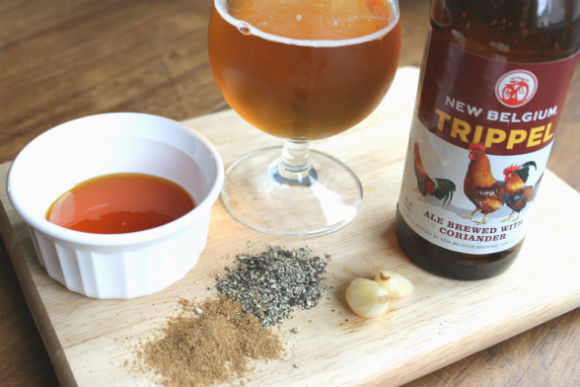 What you do
Pre-heat your oven to 400°. Put all the sauce ingredients in a sauce pan over high heat and bring to a boil. Lower the heat to a simmer and reduce the sauce until it is down to about ½ cup, 45 minutes – 1 hour, stirring occasionally. Next, put the butter, oil, salt, and pepper in a large bowl. Add in the wings and toss to coat them. Prepare a baking sheet (or two) by lining with foil and placing a wire baking rack on top. The rack helps the wings get crispy. Put the wings on the rack and bake for 50 – 55 minutes, until crispy and golden brown. Turn the wings halfway through baking.
Once your sauce is reduced, remove from the heat and allow it to cool. It will thicken a bit as it cools.
When the wings are done, place the sauce in a large bowl, add the wings and toss well to coat them evenly. At this point, you can serve the wings as is or place them back in the oven on the wire rack to cook for a few more minutes, caramelizing the sauce and making them less sticky/messy. It is really a personal choice. I prefer them baked for a few minutes after saucing. To do this, once the wings are coated, line them back up on the wire rack and place them back in the 400° oven for 5 – 8 minutes. Turn and brush the wings with additional sauce left over in the bowl halfway through. You can always throw a few back in the oven to test it out and see which you like better before committing to the whole batch.
* You can make the sauce 3 days in advance and keep it covered in the refrigerator until you are ready to use.