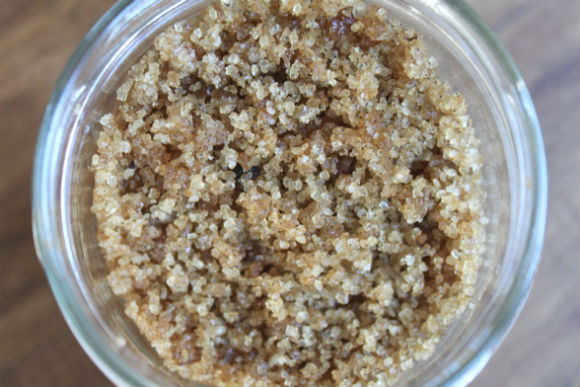 Over Christmas I spent a lot of time looking through foodie magazines and came across a recipe for bourbon sugar in Bon Appetit. It seemed like the perfect easy recipe to ease myself back into the beer kitchen world after a jam-packed holiday season. Of course, the bourbon would have to go, being replaced by a roasty, chocolate stout. There are a lot of different types of stouts out there, so feel free to play around with different ones, just stay away from imperial varieties due to the higher evident alcohol flavor.
This sugar is beautiful when it's finished, dotted with vanilla and a nice caramel color. You can use it to top/decorate all sorts of baked goods likes cupcakes, cookies, muffins and truffles. Anywhere you would use sanding sugar you can use this. It would also make an excellent and fun gift.
While this recipe only takes about 5 minutes of active kitchen time, you do have to have 12 hours of dedicated oven time to dry out the sugar. I recommend doing this overnight or first thing in the morning. The sugar you use in this recipe is demerara sugar. It is an unrefined sugar with large crystals and is light golden in color. I easily found a box of it at Whole Foods for less than $3. The finished stout sugar keeps for two months stored at room temperature.
Happy New Year everyone!
What you need
1 cup demerara sugar
1 whole vanilla bean
2 tablespoons stout
What you do
Start by putting the sugar in a bowl. Cut the vanilla bean down the middle and split it open. Scrape the seeds from the pod with the back of a knife and add to the bowl. Pour in the stout and mix everything together. Spread the sugar mixture on a sheet pan lined with parchment paper and place in the oven. Turn your oven on to 150 degrees (or as low as your oven will go. Mine was at 170 degrees). Keep the oven door open slightly and allow the sugar to dry out in the oven for 12 hours, until the sugar mixture is dry. Remove the sugar from the oven and allow to cool for a few minutes. Put the sugar into an air tight container, being sure to break up any large clumps with a fork or your hand, and store.