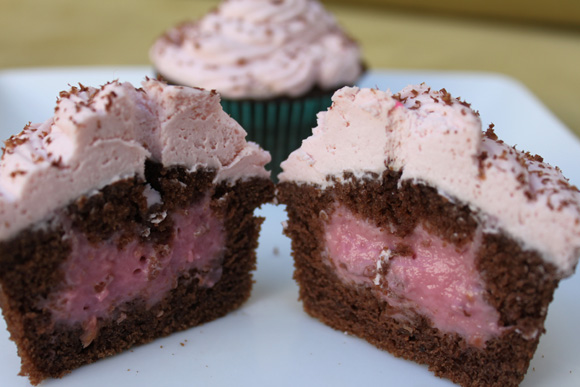 Last week one of my good friends announced to me that she was planning on celebrating her birthday that weekend in a low key fashion at a local dive bar by her house. Nothing special, just whoever is around that wants to stop by for a beer is welcome. That sounded fine, but I thought we could do better. I decided a BBQ was in order and that I was going to provide the cake, which would of course involve beer. My friends have come to expect nothing less from me. As I started to think about what I could make, chocolate cupcakes came out as an obvious winner. Being short on time I kept things simple and settled on a chocolate stout cupcake. But after a few days passed, I got bored with that idea and wanted to do something different. I gave it more thought and decided that working raspberries into the cake would be nice. Then it hit me! I could use a raspberry lambic to achieve this goal and incorporate another beer into the cake. I was sold (for real this time). My final decision was to make a chocolate stout cupcake with a raspberry lambic filling and raspberry lambic whipped cream frosting. I was super excited, but also pretty intimidated and wondered if I could pull them off. I had no idea how to go about filling a cupcake with anything let alone what to fill it with or how to make the frosting, but it was worth a try.
Since I am not the most confident baker and this was quite the project, I choose to use recipes from others I found that were proven to be successful and used them as building blocks to make these wonderful confections. For the cupcake, I went with a recipe on Foodnetwork.com from Dave Lieberman (it had solid reviews and I liked that it called for sour cream. I don't know why, but what sounded great). For the filling, I thought about making a framboise buttercream, but that sounded really heavy. Some kind of mousse or pudding seemed more fitting, so I modified the Homebrew Chef's stout pudding recipe. I came up with the whipped cream frosting on my own.
Once I had the recipes nailed down and a plan for construction, it was beer choosing time. For the pudding and frosting, I knew I wanted to use a raspberry lambic and Lindemans Framboise seemed like the obvious (and very available) choice, but I had no idea what kind of stout I wanted. My plan was to head to the store and pick out something that looked good. As I was scanning the shelves at the grocery store, the Firestone Walker Velvet Merlin's shiny silver and red packaging caught my eye and home with me it went. It's an oatmeal stout with chocolate and espresso flavors, so it sounded like a wonderful addition to chocolate cake, and it was.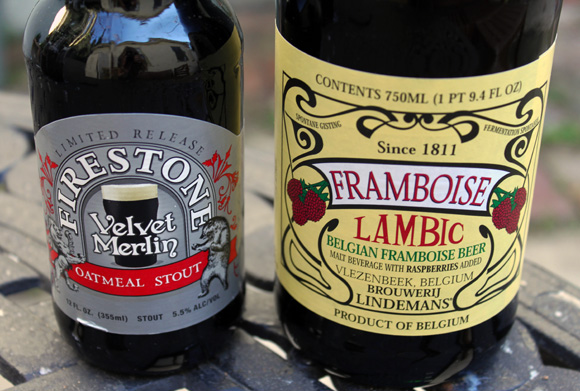 As I began my epic baking project, I quickly realized that each one of the individual components is really easy to make, so don't be intimidated like I was. You just need to make sure you give yourself enough time for all the cooling/setting that needs to take place with the recipes. For order of completion,  I would recommend making the pudding first so it has plenty of time to chill, then the reduction for the frosting, then the cupcakes, and make the frosting at the last possible minute. I made my frosting  before I walked out the door and frosted them at the party right before serving. Since these cupcakes have a pudding filling (milk based) and a whipped cream frosting, they don't last a super long time out on the counter. They can survive just fine for 4 – 5 hours, but any longer than that and I would put them in an airtight container and refrigerate them. Sadly, that will dry out the cupcakes a bit, so these are really best the same day they are made.
Once I got the cupcakes frosted, I shaved a bit of dark chocolate on them for presentation, stuck in the candles, and out to the birthday girl they went. I couldn't have been happier with how they looked and the party goers seemed like they couldn't be happier with how they tasted. They were a little messy to eat, but it was part of the fun. I was worried they were going to be too sweet, so I was pleasantly surprised when I took a bite and found they were not that sweet at all, just complex and delicious. If you are not a big fan of super sweet desserts, these would be good for you. As the party went on throughout the night, I heard various comments about the cupcakes and how good they were. I certainly think the uniqueness of them helped them standout and made them extra special. Next time you're on the hook for bringing the cake to a party, give theses guys a try!
Velvet Merlin Cupcakes, makes ~24
(I used Dave Lieberman's Stout Cupcake recipe)
What you need:
3/4 cup unsweetened cocoa powder
2 cups sugar
2 cups all-purpose flour
1 teaspoon baking soda
Pinch fine salt
1 bottle stout beer at room temperature (I used Firestone Walker's Velvet Merlin. Any stout with chocolate notes will do.)
1 stick butter, melted
1 tablespoon vanilla extract
3 large eggs
3/4 cup sour cream
What you do:
Preheat your oven to 350 degrees F.
In a mixing bowl, whisk together the cocoa, sugar, flour, baking soda, and salt.
In another large mixing bowl, combine the stout, melted butter, and vanilla. Make sure your butter is completely melted and that your beer is at room temperature. If your beer is cold and the butter is still sort of solid, the mixture will not be pretty. Trust me, I know from experience. Once your butter, beer, and vanilla are combined, add in the eggs, one at a time. Give the batter a good whisk after each egg addition. Then, mix in the sour cream until thoroughly smooth.
Once you have your wet ingredients together, gradually mix the dry ingredients into the wet mixture. I did this in about 4 additions, stirring well after each one.
Divide the batter equally between muffin tins (that are either greased or have liners), filling each almost all the way to the top. Bake for 12 minutes and then rotate the pans. Bake another 10 – 12 minutes until risen and set in the middle but still soft and tender. Allow the cupcakes to cool a bit before removing them from the cupcake pan.
Raspberry Lambic Pudding Filling, makes 2.5 cups

(Adapted from the Homebrew Chef's Stout Pudding recipe)
What You Need:
4 tablespoons cornstarch
2 pinches salt
2/3 cup sugar
1 cup whole milk
1 cup heavy cream
1 cup raspberry lambic (I used Lindemans Framboise)
2/3 cup raspberries (fresh or frozen that have been thawed), mashed with a fork
What you do:
Start by combining the cornstarch, salt, and sugar in a large bowl. Place the bowl on top of a pot that has some boiling water in it (you don't want the water to touch the bottom of the bowl). Pour in the milk, cream, and beer into the bowl with the cornstarch and whisk until well combined.
Next, add in the mashed raspberries.  Whisk the mixture frequently over the boiling water until it becomes thick and smooth. This should take about 15 minutes. Once the pudding has become fairly thick, remove the bowl from the pot and transfer the pudding to a container, cover, and refrigerate until it is chilled and completely set. You should be prepared to give it at least 4 hours in the fridge before using it to fill the cupcakes. Leaving it up to overnight would be even better.

Raspberry Lambic Whipped Cream Frosting
What you need:
3 cups heavy whipping cream, well chilled
5 tablespoons powdered sugar
2 tablespoons raspberry lambic reduction (1 cup beer + 2 tablespoons sugar)
gelatin powder (optional)
What you do:
First, you need to make the lambic reduction. To do this, simply put 1 cup lambic in a saucepan with 2 tablespoons white sugar.  Turn the heat on medium and allow the beer to simmer for about 10 – 15 minutes until it has reduced to about ¼ cup. Be sure to keep a close eye on the beer while it is reducing. It can go from almost there to totally burned and smelling awful super quick. Once the lambic is reduced, set it aside to cool completely. I would recommend doing this at the very start of your cupcake making operation.
Once your lambic reduction is completely cool, get ready to make your frosting by placing a metal bowl and your mixer attachments in the freezer for 5 minutes to chill. Once they are nice and frosty cold, remove them from the freezer and pour in your 3 cups of heavy cream. At this point I sprinkled about ½ teaspoon of powdered gelatin onto the cream to help it stabilize. This is not necessary, but a good idea if you aren't eating the cupcakes as soon as your frost them. Beat with an electric mixer on high for about 5 minutes until it becomes slightly firm and fluffy.  Next, sprinkle in the sugar and pour in the lambic reduction. Beat for another 3 minutes or so on high until stiff peaks form.
Cover and place the frosting in the refrigerator until you are ready to frost.
Put It All Together
Ok, the hard part's done (and it wasn't even that hard)! Now on to the fun stuff – assembling the cupcakes. Again, this is pretty easy. Hollowing out the cupcakes is a bit time consuming, but not hard. Cake is much sturdier then it seems, so don't be scared by it.
Cut a small circle out of the top of the cupcake, going about ¼ of an inch down. Pull the circle off. Make sure to keep the right circle with the right cupcake.
Hollow out the inside with the tip of your finger slowly, making sure not to go too far down or too close to the sides. You want to maintain the structural integrity of the cupcake. Extra points if you think of something creative to do with the scraps of cake you take out.
Fill the cupcake with the raspberry pudding (I used a pastry bag and fill tip. You could also use a zip top bag with the corner cut off, or even spoon it in if you have a steady hand).
Replace the circle on the cupcake (you may need to cut off a bit from the bottom of the circle to make it sit flush).
Frost and eat! To frost, I used a pastry bag with a frosting tip, but you could just use a knife or zip top bag. I shaved some dark chocolate on top for presentation.
Voila, you are done! Pat yourself on the back, open a beer, and take a bite. You deserve it.