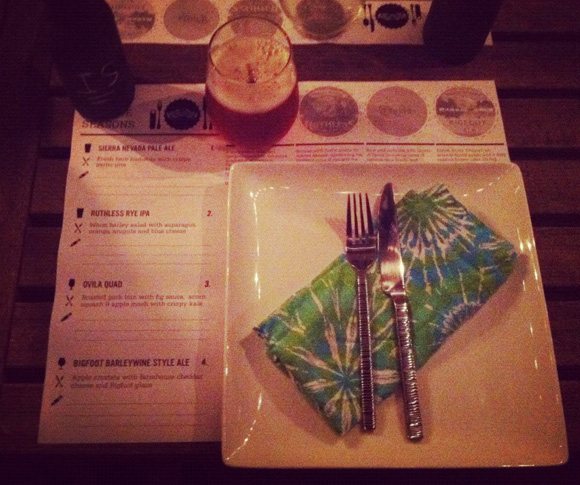 If you love beer, food, and entertaining like I do, there is a very good chance you've had friends over for a night of quality eating and drinking. But, have you ever had friends over for a night of paired eating and drinking? As in, drink this beer while consuming this food item? If not, you should give it a try! Hosting a beer pairing event is a really fun way to entertain while also educating people about new beers and foods they might have otherwise never been exposed to. Sure, it takes a little bit more planning and research then just putting some cheese and crackers out and grabbing a few six-packs of your favorite craft beer, but it's totally worth it to create an experience your friends won't forget. And it's not as scary as it sounds. Planning a pairing is fun and shouldn't stress you out. Even if you are far from a craft beer expert, there are some excellent resources out there that can make your job easy. In the end, you are having your friends over for free food and booze, so even if your pairings aren't earth shattering, it doesn't matter. People will still enjoy themselves (unless you have mean friends and then you have a completely different problem).
Each time I put on a pairing event, there are some major steps I take regardless of the event. As a way to help get you get started on our own beer pairing adventure, I outlined those steps below and used a recent beer pairing dinner I put on as a real world example of each step. This outline is not meant to teach you how to pair food with beer, but rather how to go about hosting a successful event.
Before we get started, there is one rule you need to really remember when it comes to putting on a kick-ass beer pairing: Don't be afraid to experiment, have fun, and go with what you like.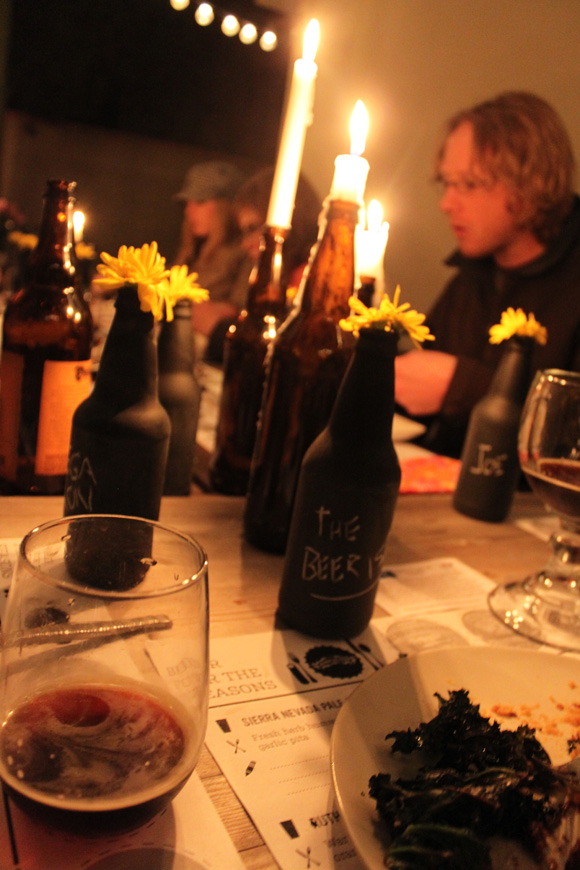 1. Figure out what you are going to do
Your first step after deciding to host a pairing event is to figure what form the event is going to take place in. Do you want to do a cheese pairing or serve a 5 course meal? Do you want to feature one specific type of beer or maybe highlight beers from a single brewery? Do you want to have a theme like 'beers from around the world' or 'beer vs. wine'? Deciding these things will lay the ground work for the rest of your planning. There are endless possibilities to the combinations you can create for a pairing, so let your imagination run wild! Oh, now is also a good time to figure out when, where and how many people you are inviting to the event. Getting major logistics figured out up front is highly recommended.
For my recent pairing I hosted, I decided I wanted to do a full dinner with 3 courses and an appetizer. For beers, I choose to go brewery specific and celebrate the beers of Sierra Nevada.  The theme was 'A Beer for the Seasons' and I paired each course with a beer that to me represented each of the 4 seasons throughout the year.


2. Plan your menu and pick your beers
This is the most important part of planning a pairing and the thing that takes the most time. You can go about this step in a number of ways depending on what theme you went with for the event. A key thing to remember for this step is to stay flexible. If you start by picking all the beers you want to serve before stepping foot in a store, there's a good chance you are going to show up to the liquor store only to find they are out of one of your carefully chosen beers. If that happens, you can either choose a similar beer by another brewery or change that pairing all together with a totally different beer they do have in stock. To make sure I don't waste too much time planning a menu for beers that aren't actually available, I like to go to the store and choose my beers first and then plan a menu around the beers I bring home. For my Sierra Nevada dinner, I went to Whole Foods with no idea of the food menu I was going to serve or which beers of theirs I wanted to pour.  Thankfully I had an excellent selection to choose from and came home with Ruthless Rye IPA, Ovila Quad, Bigfoot Barelywine, and Sierra Nevada Pale Ale. I read the descriptions of each beer while I was in the store and figured I could come up with a pretty solid meal with them.
After you have beers picked out and purchased, the research begins. There are lots of resources out there to help you figure out what would go well with your beer.  When deciding on pairings, you want to balance your beer and food pairing. You don't want to pair a really strong Triple with a light salad or a big steak and blue cheese sauce with a white ale. Also, you want to complement the flavors of the dish with the beer. The internet and books will be your best friend with it comes to figuring out good pairings.
To get started, I like to first determine what the basic flavors in the beer are, then brainstorm on what would go well with those flavors. I will often look the beer up on beeradvocate.com or ratebeer.com to see how others describe the flavors in the beer to get a more well rounded picture of taste. You should also open up the beers and try them when putting your menu together.
Next, doing some reading on what the experts recommend and what others have paired the beer with in the past is a good way to help make your final decision. Here are some great places to get info:
For my Sierra Nevada dinner, after I had my beers purchased, I started my menu planning by going to the Sierra Nevada website site to see what they had to say about each beer. Then, I opened up my beer books and researched the style of each beer. The Brewmaster's Table specifically recommended serving Bigfoot Barleywine with a fruity farmhouse cheddar, so I picked an apple crostata and cheddar to serve for dessert with the beer. The rest of the menu was shaped around complementing the major flavors of the beer with the food. For example, Ovila Quad has notes of intense dark fruits and caramel-like maltiness, so after tasting it I decided doing something with figs would be nice. I settled on a roast pork loin stuffed with fig jam served along side a mash of acorn squash. The combination was amazing with the beer. Here is the final menu I decided on:
Sierra Nevada Pale Ale + Fresh Herb Hummus & Crispy Garlic Pita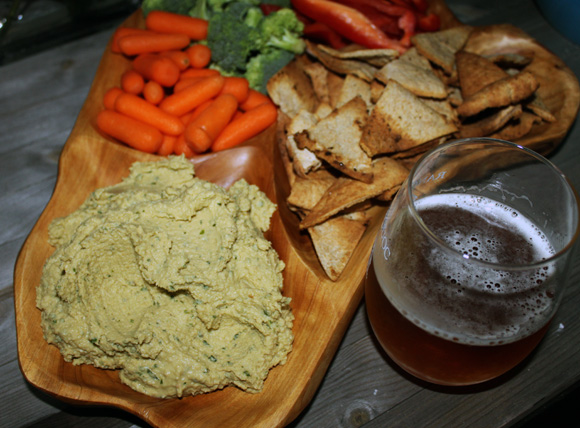 Ruthless Rye IPA + Warm Barley Salad w/Asparagus, Orange, Arugula, & Blue Cheese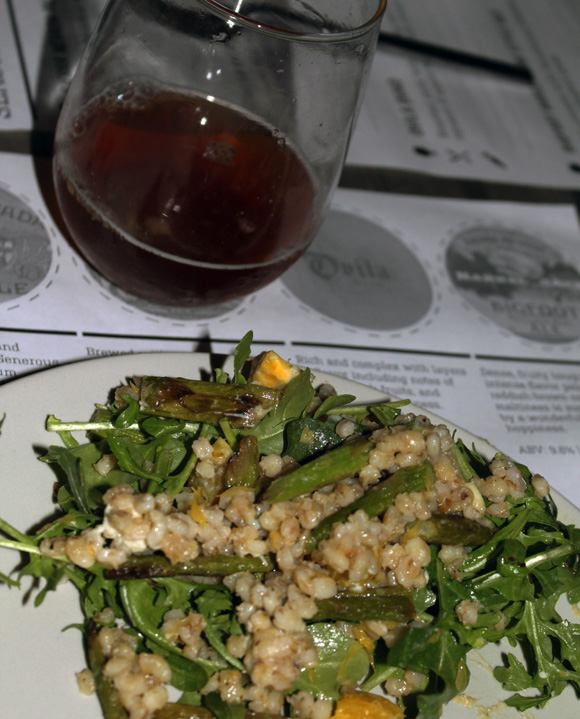 Ovila Quad + Roasted Pork Loin w/Fig Sauce, Acorn Squash & Apple Mash, Crispy Kale




Bigfoot Barley Wine + Apple Crostata w/Farmhouse Cheddar & Bigfoot Glaze




3. Prep ready for the party
One of the great things about a pairing event is that you get a chance to share your love and enthusiasm for craft beer with others. It is an excellent way to educate people while having fun. To help with this, you should make some form of tasting sheets for each of your guests. The sheet should include:
The name of each beer and what it is paired with
Information about the style and attributes of the beer (ABV, IBUs, special ingredients used, major flavors, etc.)
Information about the food pairing
Space for them to take notes
For my dinner, I created a placemat that had a spot for each beer on top and the menu w/info and a notes section on the side. Have fun with these sheets and get creative! They make for a great souvenir for your guests to take home. I also created an invitation to send to everyone in the form of a flyer so my guests knew what they would be served ahead of time.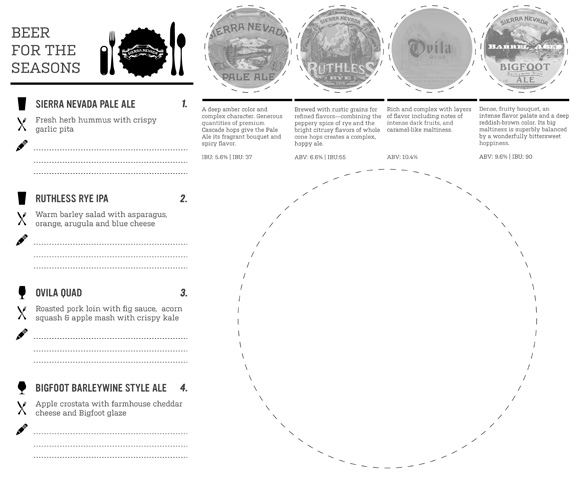 You should also prepare notes of each pairing so you can talk your guests through what they are consuming. As the host you will guide each course, providing info to everyone as they are tasting. This will also help get conversation going. At the very least you should be able to tell everyone what they are having, who made it, and where it's made. If there are any good stories behind the items (e.g. this cheese is made by monks 1 time a year to celebrate their favorite goat's birthday) those are always great things to be able to add in. For my dinner, I decided to talk though each course describing the beer and why I choose each specific pairing, highlighting any unique ingredients I used for the food, such as the 10 year aged cheddar I served with the dessert course.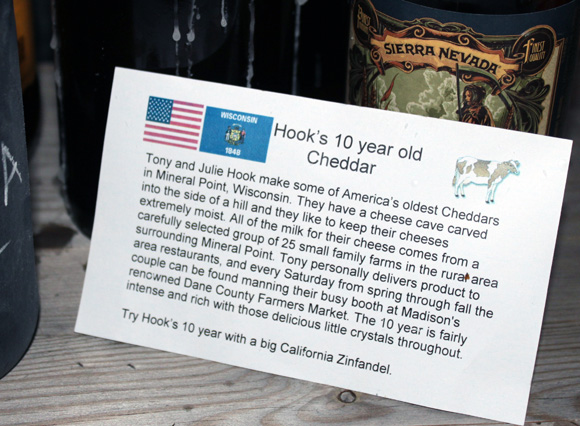 I also recommended doing some sort of decorating for the event. You can match it to your theme or just make the table look pretty like I did at my recent dinner. I got creative with some old beer bottles and spray painted them with chalkboard paint (Sierra Nevada bottles of course). I wrote each guests name on a bottle and used them as place cards on the table. I also took old beer bottles and used them as candle holders. Little touches like that can really elevate your event to a whole new level.
Now is also the time to get your shopping lists together, figure out how much beer and food you will need for everyone, make sure you have enough plates/silverware/glasses for your guests, etc. You don't want to be stressing out on the day of the event running around trying to find 3 more tasting glasses. The more things you can do ahead of time the better.
4. Execute!
Now the real fun begins! On the day of the event, you should get the table set and have everything ready to go when your guests show up. Here are a few things you should remember to have on the table (or somewhere close):
A clean tasting glass for each person
Tasting sheet with info on the pairings & notes section
Pens or pencils
Glasses of water for each person
A discard bucket
A pitcher of water for cleaning out the tasting glass in between courses (unless you have a ton of glassware and can give each person a new glass every time)
The basics: plates, napkins, silverware, etc.
Since I was having a full sit down dinner, I decided to do 6oz pours of beer with each course. I choose some strong beers to accompany my 4 courses, so full beers for each one would  be a bit intense on a Sunday night. I had extra beer on hand in case anyone wanted more. The number of pairings that you are doing and the overall flow of the event will help set the tone for how much beer you should serve for each course.
For each pairing, you should take the beer out of the fridge about 5 minutes before you serve it to allow it to warm slightly, increasing the flavor. You should pour the beer for each person if possible. As your guests are enjoying their beer/food pairing, talk to them about what they are having, ask them questions, see what they think.  Don't feel like you have to rush. Take time to enjoy the beers and talk about them. The last thing you want is your guests feeling like they have to chug their beers so you can move on to the next course. Be sure to rinse out each persons glass with a little water in between pairings to keep the flavors clean.
For my dinner, I started the night with the appetizer set out and ready to be eaten for when my guests arrived. I had the table set and a bucket of Sierra Nevada Pale Ale and glasses waiting for them. After everyone had a chance to mingle and catch up, I had them sit for dinner. I decided to serve each course family style to make my life easier. Individually plating takes time and more dishes. No thank you. I brought out each course, then poured beers for everyone and talked to them about the beer and food while they were serving themselves. This worked out well and allowed me to be outside enjoying my company more than in the kitchen prepping things.
Throughout the night it is fun to ask your guests which pairings they have liked the best so far and why. It's amazing how much people will get into describing the flavors and what they like and don't like about certain beers. Everyone usually has a slightly (or dramatically) different take on what they are having, so it makes for great conversation.
The most important part of hosting is to have a great time!  Remember, you are serving people food and beer, so the night is pretty much guaranteed to be a hit no matter what.
After following my normal planning routine outlined above, my Sierra Nevada dinner went great. Everyone had a good time and seemed to really get into the pairings. The Ovila Quad with roasted pork was the hit of the night. By spending a little bit of time planning and prepping for the dinner,  I was able to create a really fun and memorable event for my guests. I highly encourage you to give hosting an event a try! Start small with something like a beer and cheese pairing to get your feet wet and go from there. You'll have a great time, learn a lot, and impress your friends.