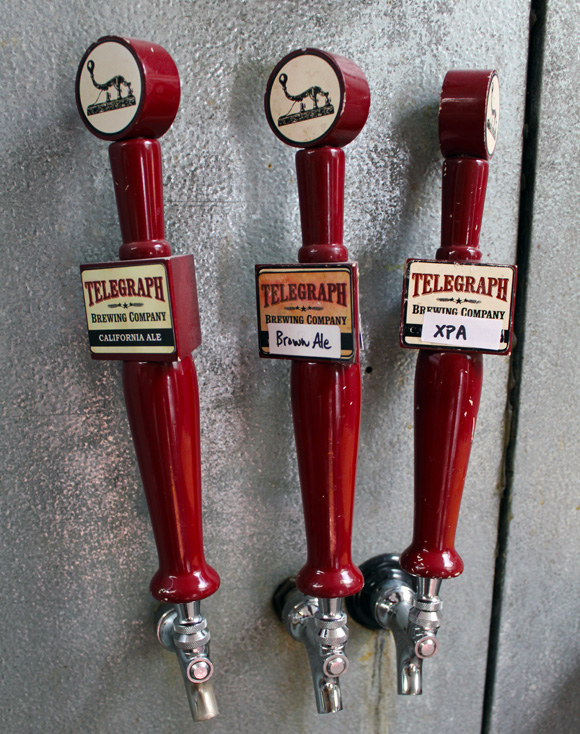 I made my first visit to Telegraph Brewing Company in Santa Barbara, CA in January of 2009, which is three years after their doors opened in 2006, and I have been a big fan ever since. They create unique, but very approachable beers out of their small brewery tucked away in an industrial area of Santa Barbara. I have had the pleasure of going back several times since my initial visit in 2009 and not much has changed (in the best way possible). The tasting room is still just the standing room available on the brewery floor, the vibe is very laid back, the beers flow from taps hooked up directly to their walk-in fridge, and they are excellent.
During my most recent visit a few weeks ago, I sat down with the owner, Brian Thompson, to get his thoughts on all sorts of things from the state of the craft beer industry to what Telegraph beer he would use to make ice cream (check out this article for more info on Brian's background and how he made his way from Wall Street to becoming a brewery owner). I also got to spend a little time trying beers while hanging out with the crew and Paul, one of the brewers. I found the conversation fascinating and learned a lot from Brian. Our talk is captured below for you to enjoy, gain some new perspective, and hopefully learn a few things along the way. Telegraph is a solid brewery producing some well thought out and varied beers. If you've never had one of their beers before, grab a bottle of California Ale or one of their Obscura brews next time you are at the store (assuming they have it) and give it a try. They are in the process of expanding the brewery and moving to a new site, so be on the lookout for that. Good things to come for Telegraph and I wish them all the luck.
I broke the conversation up into two posts since it is a bit long. I had a hard time cutting out anything major and thought most of our talk was worth sharing. Enjoy. Part two can be found here.
 A conversation with Brian Thompson: Owner of Telegraph Brewing Company. March 9th, 2012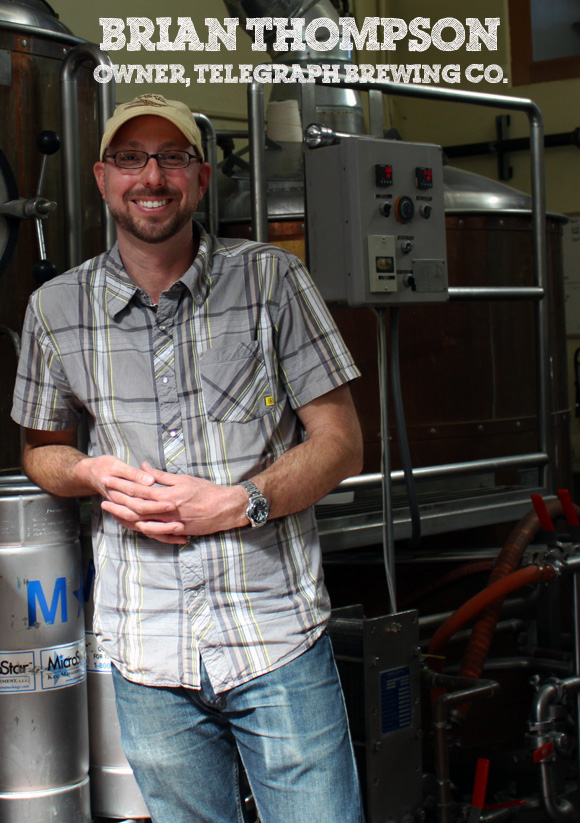 Aften: On your website you say that you think beers should really represent the regions where they're made. So, I'm curious to hear your thoughts on how you think Telegraph beers represent the Santa Barbara, central coast region.
Brian: Here in Southern California we don't grow hops, we don't grow barley.  I mean crops will grow here but, certainly not in commercial quantities, so the one truly local ingredient that we have here is the water. All of our recipes are kind of designed around the Santa Barbara water in that sense. If you look back over brewing history, at the great brewing centers of Europe- whether it's Dublin or London or Burton-on-Trent, or Munich, or Pilzen- breweries grew there because they had a good water source.
So, what we really wanted to do was brew beers that were unique to the Santa Barbara water source. Now obviously any modern brewer can brew whatever style they want with techniques like filtration and adding in all the salts and the minerals you want.  But, 200 years ago, you made do with what you had.  Munich brewers realized that sort of darker, maltier lagers turned out the best there.  In Dublin, they realized that dry stouts turned out the best.  In Burton-on-Trent, the high carbonate content really emphasized the hop character so pale ales grew up there with fairly aggressive hop profiles.  Our water profile here in Santa Barbara is actually very similar to the Brabant region in Belgium.  So, it's a very nice balance between carbonates and sulfates.  It's fairly hard.  It's not hard in the sense that Burton-on-Trent is very hard with calcium carbonate but it's very balanced between sulfates and carbonates and so it really does well with slightly darker beers- full-of-flavor, full-of-body beers.  Our Pilsner is the one beer that we actually treat the water for, because we wanted to make a pilsner. That's the one beer that we make that isn't built around our water supply. We just try to change the recipe a little bit to ensure that we're not getting a real harsh bitterness, so we can adjust the PH in the mash tub with some dark malts and things like that.
Also, when possible, we try to use as many locally grown ingredients as we can even though we don't have local hops or barley.  For example, in our light ale we use chamomile grown in Carpentaria. We use orange peels from Goleta. We use lemon verbena, grown again in Carpentaria. We wanted to make beers that were at least unique to Telegraph, unique to Santa Barbara and if somebody wanted to copy one of our beers, I would take that see that as the sincerest form of flattery.  But it's not like we're setting out to brew new styles of beer.
On that note, what I don't like about the beer scene in America (and there's not a whole lot to not like) is that there are lots of breweries out there that just seems to just make IPAs, a pale ale, a red ale, and a brown ale- and that's fine if they're all well-made.  But I've had ten IPAs I can name that I really, really like, and I can probably name twenty-five that are perfectly adequate and then there's probably another list of 150 that I'm not going to bother wasting my time with because there's nothing about them that really grabbed me.  And I just think that's the biggest risk for the craft beer world right now. I mean, sure, you can say there's a lot of innovation.  There's barrel aging that hasn't been done in years.  Sour beers are creating buzz, but it's still a very emerging style.  Outside of the real, sort of die-hard, beer-geek community, there's no interest.
Aften:  You're right. I've handed a couple of sour ales to people and they look at it, smell it and say, "No thank you. Is this bad?"
Brian:  What the heck is this? Right.  Whereas you can hand a  pale, like a Sierra Nevada, to a Bud Light drinker and they think, "Oh, that's way too strong for me."  But they're not going, "Oh, what the heck is this?",  like people do with sours.  You hear talking, "Oh, it's going to be the next big IPA."  I don't think a sour could ever beat the IPA. But I kind of feel that the whole IPA trend is playing itself out. You know, how many more IPAs can we make?
Aften:  No kidding.
Brian:  So I feel like the IPA thing is getting ready to jump the shark, in my opinion.  That's not why we don't make an IPA, because we've never made an IPA.  It's not like we're, "Oh, IPAs are cool, so we're not going to do that anymore."  It's just that, we want to do things that other people aren't doing.  When I started drinking craft beer in college up in the bay area in the early 90s, Sierra Nevada was already there. Craft beer had already had sort of been around for, six or seven years.
Aften:  Up in Berkeley?
Brian:  It was in Berkeley, exactly.  So, I drank Anchor Steam, Sierra Nevada, 20 Tank over in San Francisco, Triple Rock in Berkeley, Moonlight brewing, and Brian Hunt was up in Santa Rosa.  Those pioneers like Fritz Maytag and Ken Grossman, they did not sit down when they were starting a brewery and say, "Okay, so there's this great beer called American Style Larger, everybody loves it but we can make one too, but everybody will love it because it's local and it's small."  That's not what they said.  And I feel like now you have everybody just sort of saying, "I'm going to start a brewery.  We're going to do a couple of really great IPAs and…"  – Like, why? Why not do something that other people aren't doing?  I don't understand that.  It's easy to sell an IPA, sure.  And I guess right now there's sort of this endless demand for locally made IPAs so I guess they're tapping into a demand.
Aften:  Local anything.
Brian:  Yes, right.  Absolutely. I'm not quite sure why people aren't thinking outside the constraints of the industry a little more. The Bruery are really doing some interesting new beer styles.  Some people say, "Oh, I like to taste beer in my beer and I don't taste much beer in there."  And you know, I think that's a valid criticism but clearly they've found great success doing stuff that other people aren't doing and I think that's exciting.
Aften:  They have a huge following.
Brian:  Huge following. Absolutely
Aften:  And the whole Black Tuesday thing?
Brian:  Yes, it's crazy.  I wish there were more breweries doing things like that. They don't have to be wild and crazy, you know, lemongrass, basil, honey, barrel aging. But Dogfish's a perfect example.  Obviously they do IPAs well but they're doing a lot of things that other people aren't doing too.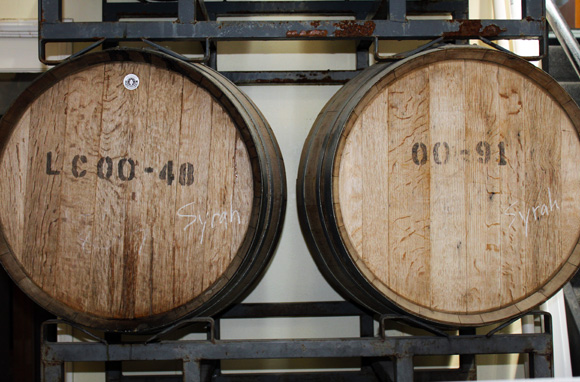 Aften:  What do you think about the explosion of all the craft breweries everywhere recently? Do you think that's a trend that can be sustained and we can just keep adding and adding and adding all these breweries?  Or has it got to plateau at some point and crumble down?
Brian:  That's a good question. If craft beer only has 5% or 5.5% of the market, there's obviously room for the craft industry to grow.  And I was just reading in the Wall Street Journal today about Anheuser-Busch, Budweiser in particular, that since 1988 Budweiser has been on a downward trend within the United States.  So, 1988 was the last year that they actually grew their production for domestic consumption and in 2010 versus 2000, it's down 50%.
Aften:  Wow.
Brian:  So, Budweiser can lose 50% of its domestic consumption in ten years. Looking back further Budweiser's probably like 30% of what it used to be, but Bud Light has grown exponentially. Coors light took over Budweiser as the second bestselling brand in the United States and craft has certainly grown but not to the extent that the light beers have grown. Bud drinkers are now Bud Light drinkers and that's an interesting dichotomy too that we've seen with extremes.  Somebody likes Bud Light, there's no flavor there.  So, people want either no flavor or lots of flavor.
Aften:  Unless it's Bud Light with Lime.
Brian:  Right, or Bud Light Platinum I was just reading about.
Aften:  Then there's the one with the clam juice and…
Brian:  Oh man.  So, obviously there's definitely room for more craft breweries. I agree 100% with some commentators that say that this is kind of a bubble right now.  Every city in America should have a local brewery, but much like we saw in the mid-90s when there was just sort of this mad rush into craft beer, I think we're kind of seeing the same thing right now.  And inevitably there's people getting into the business that don't know beer or don't know business or don't know both and this is a very difficult business. As any brewer or brewery owner will tell you.  It's a difficult business. It's so competitive and it's very fragmented in the craft beer world where there are lots of different brands to choose from. It's hard to get shelf space, hard to get taps or tap handles.  It's hard to find distributors that are willing to pick up a brand new brand.
Aften:  Really?
Brian:  Well, it's changed. I think a lot of those distributors are going to realize that just because this is some new small brewery doesn't mean that they're making great beer or that they know how to run a business.  So, in five years I think that craft beer will be bigger than it is today but the number of breweries will be smaller than it is.  I just don't see how many of these real small operations, that are probably under-capitalized, like the whole nano-brewery trend…
Aften:  I've already seen a couple come and go in LA.
Brian:  Yes, you cannot make money.  Unless you're going to do it as just a hobby or you're rich and you don't need to have a real job that pays the bills, you can't do it and it's just so frustrating.  It takes basically the same amount of work to make fifteen gallons or 500 gallons, or 5,000 gallons.  I just think nano-breweries are kind of a silly trend.  So, I don't see that playing out very well.
Aften:  Right.
Brian: I think that you'll start to see survival of the fittest over the next few years. If a brewery is making good beer and they have a good sort of local or regional following and they have enough money to get through those lean first years, those breweries will survive, but I don't know how a brewery that's underfunded and without commercial brewing experience can really make it unless they're lucky or just really smart.
Aften:  It's just getting too competitive.  So, what would you say was one of your number one or two biggest obstacles for starting-up in your first year?
Brian:  Oh well…
Aften:  I'm sure there's a long list.
Brian:  So many, yes.  Santa Barbara was a less beer-savvy city five years ago or six years ago than it is now. It's still a lot less beer-savvy than LA or San Diego or San Francisco. We are in the restaurants where there's a real focus on local ingredients or quality produce and local seafood and everything.
Aften:  So, we won't find any of your beers at Chilis?
Brian:  No, no.  The sports bars that cater to the tourists or the fake I.D. crowd from colleges, we haven't really found much interest in those those bars, not because the beer wouldn't sell there, but to a large extent because the distribution is very much locked up here in Santa Barbara.  So, there's one big distributor who has a very broad range of beers and they do an extremely good job, they're a great distributor.  They don't carry us. And it's hard when you walk in and you talk to the bar manager and they say, "Oh, I don't want to piss off the beverage guy rep because he has 19 of my 20 handles."  So, it is what it is.  But, LA has been a great market for us.  We sell a lot more beer in LA than we do in Santa Barbara.
Aften:  Really?
Brian:  But, in terms of obstacles, there were so many, thinking back.  You know, local beer education, and back then it was harder for a small brewery to find a distributor that was willing to take an untested brand on.  Now, that's both good and bad.  I think it's too easy sometimes for a small brewery to find distribution everywhere, and there's no way that they're going to be able to keep up with demand or quality can suffer.  We had some quality control issues early on that we've been very upfront about, but it still really just makes a pit in your stomach.  It's unfortunate, it's all behind us now, which is good.
Aften:  You guys opened in 2006, correct?
Brian:  2006.
Aften:  So not an easy task, obviously.
Brian:  Not easy.
Aften:  Not even close.
Brian:  Unless things just really take off, you're not going to be paying your bills the first year, so you have to have enough money in the bank to get through those first couple of years.  It can be frustrating and depressing and we're lucky that none of our investors were saying, "Hey, come one, clock's ticking, let's go, let's go, let's go."  Because I think they all understood that it's a marathon, not a sprint. When I look back at our early numbers we were brewing two or three times a month in our first few months.  And now we're brewing three or four times a week.  So, obviously we've grown a lot.  But you can't pay the bills when you're brewing two or three times a month.  There's no way.
Aften:  Yeah, a lot of times people probably have this dream of starting a brewery and don't understand that there's a huge business aspect to it. Was there ever a point where you were wishing you were still on Wall Street? Were you ever like, "Why did I do this?"
Brian:  Probably not wishing I was on Wall Street, but there were plenty of times when I was like, "God this is just such a stupid idea."
Aften:  Do you ever feel like that now?  Or is that behind you?
Brian:  Sure, on bad days I guess, but you appreciate the good days.  A lot less now. You feel kind of trapped when you start a business because you can't just quit.  You have a lot of money tied up and you have investors and people counting on you…
Aften:  Employees.
Brian:  Employees, right.  So, you can't just sort of say, you know, "I'm so over this.  I'm sorry guys, here's my two week notice." You can't do that.  So, there was some dark days there when it was just like, "How the heck are we going to get through this process?"  It's nice to be able to look back on those days.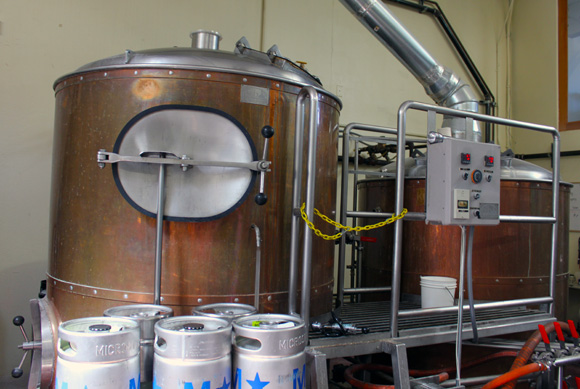 Aften:  So, what are you guys brewing right now?
Brian:  We're not brewing today. We recently brewed Los Padres Ale, which is our new saison.  We're bottling Porter next week.  We bottled Rhinoceros this past week.  We're gearing up for the summer season.  We're trying to catch up on bottle inventory.  The first quarter's almost always our slowest quarter just because, you know, demand is lower, people are staying home a little more, the weather's a little cooler…
Aften:  People are still trying to stick to new year's resolutions…
Brian:  Yep. People don't have their tax refunds yet.  Everybody is totally partied out over the holidays. Things are starting to pick up again.  We're shipping more beer further away now too. We ship beer to Philadelphia now.
Aften:  Wow, all the way to the east coast.
Brian:  Yes, not big volumes but some.  So, the big thing that we're cooking up right now is an expansion plan for later this year.  We've outgrown this facility.
Aften:  Yes, it's pretty tiny.
Brian:  It's small and it's really packed with stuff. So, we're moving into a bigger facility with a tasting room that can be open six days a week as opposed to just ten hours.
Aften:  Are you going to have a full bar and taps?
Brian:  Yes, exactly.  I think some people will miss the sort of homespun quality of this space.
Aften:  I noticed you don't have the dartboard up anymore.
Brian:  Yes, the dartboard, we just don't have room for it.  So, we'll put the dartboard back up in the new place.  It'll be a much more welcoming tasting room experience and we'll go up to a thirty-barrel system.  We're going to sell our fifteen-barrel system.  We're all really excited about that.
Aften:  That's awesome.
Brian:  It's overdue.  You know, this place is…we outgrew it a while ago but, we want to say here in the neighborhood.  We don't want to move to Ventura or Santa Maria or something like that. We wanted to find the right building and I think we finally have.  Timing is a little up in the air but hopefully before the end of the year we'll be up in our new space.
Aften:  In terms of people that are coming in and enjoying your beers, have you seen a shift in the population? Are there more women coming in?
Brian:  The beer world is still pretty male dominated.  You are 100% aware of this.  But it's great to see somebody like you or The Beer Chicks. So, what we're seeing is maybe not a higher percentage.  We do see plenty of women in the tasting room but I think more and more of them are more beer-savvy than they used to be.  It used to be, "Oh, yes I'm here because my boyfriend likes beer and he dragged me along to go to the tasting room." Now we're actually seeing women who will come in with their friends and say, "Oh, hey, yes, we really love this new saison" or whatever.  There's definitely more beer knowledge I think among women then there used to be, but it's still kind of a guys' world.  We're not making real aggressive beers.  We're not Stone.  I respect Stone for what they've done but they're a pretty macho.
Aften:  Yes, aggressive could be a good word for them.
Brian:  And we're not real macho.  We do hear from a lot of women who come by the tasting room and say, "I'm not a big beer drinker but I really like your beers."  And I take that as a huge compliment because I'm not making girly beers but maybe it's just that they're beers with a little more nuance and and balance. You know, this is such a wine region here.  We do get a lot of wine drinkers that come in and people say, "Oh, you know, I like the complexity of your beers." And if somebody's used to drinking a big shiraz, they're picking out some of the leather, the tobacco or the smoke characteristics, they can find a lot of the same flavors in some of our beers.  It's not just hops or just super-high alcohol. Our wild ales tend to be very lactic, some of the bread character, maybe a little fruity character.  I think those are also very appealing to women in general but also to wine drinkers with fairly attuned pallets.
….Continue with part two of our conversation here.