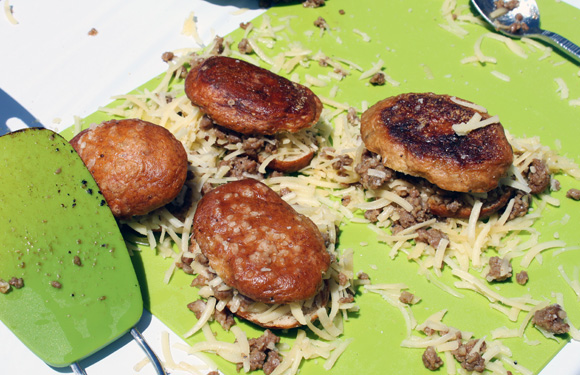 I'm not a competitive person when it comes to sports. I was not one of those kids that racked up a whole room full of trophies or medals. But, when it comes to grilled cheese, it's a whole other story. As I mentioned in my last post, I competed in an amazing competition called the Grilled Cheese Invitational (GCI) last year for the first time. I took home a trophy for my beer themed sandwich, The Beer Baron and was hooked on the thrill of winning a cheap, plastic award with a clay grilled cheese glued on top. I knew at that moment I would be back the following year to defend my place in grilled cheese history and attempt to add another trophy to my shelf.
This year's GCI took place at the Rose Bowl on a very hot, but lovely day. I decided to up my game for 2012 and compete in not one, but two of the four categories the competition has. The first sandwich I grilled up was for the Kama Sutra category (has to be 60% cheese, but other than that, anything goes). This amazing handcrafted sandwich consisted of homemade rye ale pretzel buns, beer boiled brats with caramelized onions, and lots of Gruyere cheese. I severed the sandwich alongside a cheddar IPA dipping sauce and Sierra Nevada stout mustard. It was pretty amazing.
After my heat, I retired to the excellent craft beer garden and anxiously waited for the award ceremony to begin. I wasn't feeling super confident at the time after seeing some of the crazy sandwiches others were churning out (squid ink infused goat cheese???), but at the end of the day, how can you go wrong with beer and cheese? Turns out you can't. The time finally came for the Mayor of Cheese to announce the winner, and thankfully The Beerbarian was among them. When they called my name I ran up to claim my trophy and couldn't have been prouder. There is something to be said about being a grilled cheese champ two years running. My parents couldn't be more proud.
It's only right that I share this sandwich with the world, so here is the recipe. Everything is easy to make, including the pretzel bread, so get to work! Enjoy.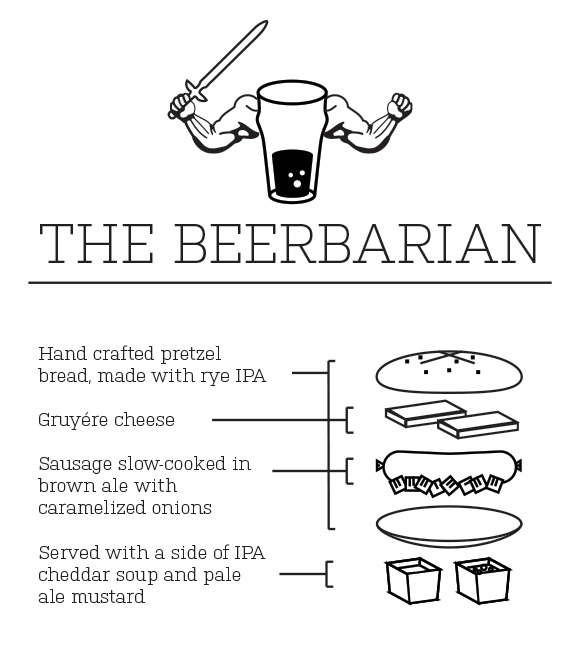 The Beer Beerbarian
What you need
Mini rye ale pretzel buns
Beer boiled brats with caramelized onions
Grated Gruyere cheese (amount is to your liking, but I recommend a lot)
Start by assembling the sandwich. To do this, cut a pretzel bun in half and add a layer of cheese, a scoop of brats and onions, then top with another layer of cheese. Replace the top back on the bun and get ready to grill. Heat a skillet over medium heat and add some butter or use some of the grease from the brats you made earlier (this is what I did and it worked great. I grilled up the sandwiches in the same pan that I made the brats in). Add the sandwich to the heated pan and grill for 3 – 4 minutes per side, or until the cheese is melted and the bread is crisp. If you have some sort of sandwich press, I highly recommend using it. If not, press down on the sandwich as it is cooking.
That's it! Super simple and super delicious. Serve with your favorite dipping sauce (I used Sierra Nevada stout mustard and a cheddar IPA sauce, which can be found in The Beerbistro cookbook).
Mini Ryle Ale Pretzel Buns (adapted from epicurious)
What you need
2 3/4 cups bread flour
1 envelope quick-rising yeast
1 teaspoon salt
1 teaspoon sugar
1 teaspoon celery seeds
1 cup plus 2 tablespoons warm rye ale (125°F to 130°F). I used Sierra Nevada Ruthless Rye.
Cornmeal
8 cups water
1/4 cup baking soda
2 tablespoons sugar
1 egg white, beaten to blend (to glaze the pretzels)
Coarse salt
What you do
Start by combing the bread flour, 1 envelope yeast, 1 teaspoon salt, 1 teaspoon sugar and celery seeds in a food processor and blend. With the machine running, slowly pour the warm beer through the feed tube. Watch the dough as you are pouring and add just enough to form a smooth elastic dough. You may need to add a little more or less depending on your dough. Process the mixture for 1 minute to knead. Once you dough is formed, add it to a medium greased bowl, turning to coat. Cover the bowl with plastic wrap, then a towel. Put the dough in a safe place and let it rise in warm, draft-free area until doubled in volume, about 35 minutes.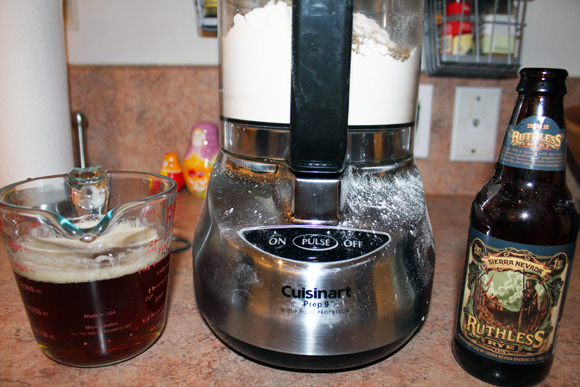 Now great ready to shape! Flour a baking sheet, then grab your dough and punch it down. Get out some aggression and knead on a lightly floured surface until smooth. To make the mini buns, pull off about a golf ball sized chunk of dough and form into a ball, then flatten a bit and shape into a log. You can also make larger buns if you want. Shape and size at this point are totally up to you. Place the buns on the prepared sheet and cover with a towel. Let the shaped dough rise until almost doubled in volume, about 20 minutes.
Time to bake! Preheat your oven to 375°F. Grease another baking sheet and sprinkle with cornmeal. Bring 8 cups of water to a boil in large saucepan and add the baking soda and 2 tablespoons sugar (water will foam up a bit). Add 4 – 6 rolls to the pot (depending on size) and cook 30 seconds per side. Using a slotted spoon, transfer rolls to the prepared sheet. Repeat this boiling processing with the remaining buns.
Once all your buns are boiled, brush the tops with an egg white glaze (1 egg white mixed with 1 tablespoon water). Sprinkle the buns generously with coarse salt, and then throw them in the oven. Bake them until they are brown, about 25 minutes. Let them cool a bit, then eat them, and fast.
The buns are easy to make and taste amazing, but they don't stay fresh for very long. I recommended making them and eating them within a day or two.
Beer Boiled Brats with Onions
What you need
½ large yellow onion, diced
2 tablespoons unsalted butter
4 uncooked brats in casing
2 – 4 bottles of brown ale (you need enough to cover the brat/onion mixture. The amount depends on your pan and size of brats). I used Figueroa Mountain Brewing's Davy Brown Ale.






What you do

Heat a skillet with high sides on medium heat. Once the pan is hot, add in the butter and allow it to melt. Throw in the onions and cook until they are brown and caramelized, about 10 minutes. While the onions are cooking, remove the brats from the casing (do this by cutting off the ends and pulling out the meat). Discard the casings.

After the onions are golden brown and caramelized, add the brats to the pan and immediately cover the mixture completely with brown ale. Bring the beer to a simmer and turn the heat to low. Continue to simmer the brats, uncovered, until the beer has reduced and the liquid is mostly absorbed. This can take 30 – 45 minutes depending on your stove and the amount of beer you used. While the brats are cooking, stir the mixture and break up any large chunks of meat.

Once the beer has been absorbed, you are ready to use the brat/onion mixture. You could use this for so, so many things in addition to the filling for The Beerbarian. Pretty much any place you would normally use a ground meat mixture, you could use this. Have fun!