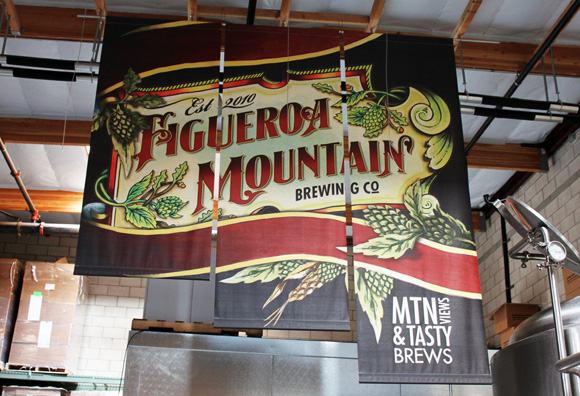 Living in L.A. is great, but every now and then you have to escape or you will go insane. Thankfully, one of the the many things that makes L.A. so great is all the wonderful weekend destinations that are just a few hours drive away. Last weekend was one of those 'I need to get out of town' times for me, so I packed up my bags and the dog and headed to the beautiful Central Coast region (think Santa Barbara area).  In true Beerista fashion, the first things I did when I decided to leave town was research what breweries where in the area. I knew about and have been to Telegraph Brewing many times (which I love – more to come on them soon), but when I noticed Figueroa Mountain Brewing on Yelp, I got super excited. It was a new brewery with great reviews, so I couldn't wait to check it out.
Figueroa is in the town of Buellton, which is in the middle of an area of the central coast that is very heavily populated with fantastic wineries. I started my day by heading up to my favorite winery, Rancho Sisqouc, for some lunch and a glass (or two) of their amazing reds. After that, I hit up one more tasting room and then was very ready for beer.  Figueroa Mountain Brewing, the beer haven in the middle of wine county, to the rescue! I made the beautiful drive to Buellton and pulled into the industrial park where Figueroa is located.
When you walk inside you are greeted by a casual, sun filled room with a few high-top tables, a large banner bearing the company's logo, and a dart board. The room was pretty full, but nothing too exciting. The real action is in the second room though the doorway. In there you find a tasting room with a wonderful atmosphere, a friendly staff, and a front row view of the brewery. To make the tasting room they sectioned off part of the brewery floor and installed a bar and tables. You can see all the tanks and equipment from the tasting room with no walls (glass or otherwise) to obstruct your view, which I love. They did a great job and created one of those spaces where you feel like you could just hangout for hours and sip your beer without anyone caring. Figueroa carries their mountainesque theme throughout the place with barbwire art and horns on the wall and a tin roof bar.
It was really busy in there (it was a Saturday afternoon), but it wasn't long before I was able to snag a table. I decided to get 2 of their $6 flights, which includes 4 beers each, so I could sample each of the 8 beers on their lineup. They also sell pints and growlers. The brewery doesn't make any food onsite, but you can order food and have it delivered from the very nearby winery tasting room and a pizza joint.  They do offer a generous bowl of pretzel sticks and awesome mustard, however. As for the beers, they were all good and very drinkable, but pretty much your standard line-up of brews. The most interesting offering was a red lager, which I had never had before and enjoyed.  The hurricane deck IPA and stout were also very solid beers. Nothing blew me away, however. After enjoying a few tastes, I had the privilege of talking with their head brewer, AJ Stoll, who kindly showed me around the brewery, including a close-up look at his brand new pilot system. I was happy to see that on the floor and asked AJ if that meant he has plans up his sleeves for some more exciting beers. His immediately got excited when the subject of new brews got brought up and answered me with a resounding "Yes".  He said the owners give him a lot of creative freedom, so I can't wait to see what he comes up with to add some excitement to their beer menu.
As for the brewery itself and the business, Figueroa opened it's doors a little over 1 year ago and has done incredibly well, including winning 6 medals for their beers at international competitions. The operation was started by a local father and son team who had a passion for high quality craft beer and has turned that passion into a successful business. They began brewing with a 15 barrel system and four 15 barrel fermenters, but quickly out grew that setup. Recently, they replaced some of the 15s with three 30 barrel tanks and have plans by June to add three more 30s.  To celebrate their recent 1 year anniversary and success, AJ brewed a 9% black ale, which sounded delicious. Outside of visiting the brewery, you can now find their beers all the way from Paso Robles to Orange County, CA and if you are lucky, get a fresh beer from their refrigerated beer van with taps on the side ready to go.
I had a great time at Figueroa and it was exactly what I needed after an afternoon of wine tasting. While the beers weren't earth shattering, they were all very solid and pull off the brewery's goal of providing top quality beers.  Visting the tasting room and brewery was a fantastic experience and I would recommend it to anyone that is in the area for a visit. It is a great place to hangout and enjoy some beer. The atmosphere is perfect and everyone I met was great. I am excited to see what the future holds for Figueroa and am already looking forward to going back. Hopefully by my next visit there will be some new beers to try.  Right before I left, AJ and I had one last chat where he gave me a fantastic tip: Thier Hoppy Poppy IPA (a fairly sweet IPA) makes an excellent blue cheese ice cream! Sounds a bit crazy, but I got my next beer ice cream project. Be on the lookout for that.
If you find yourself in the Santa Barbara, CA wine country area, give yourself a break from the grapes and head to Figueroa Mountain Brewing Co. for some good beer and a relaxing, fun time.
Figueroa Mountain Brewing Co.
45 Industrial Way
Buellton, CA 93427w
Monday – Friday: 4pm – 9pm
Saturday & Sunday: 11am – 9pm