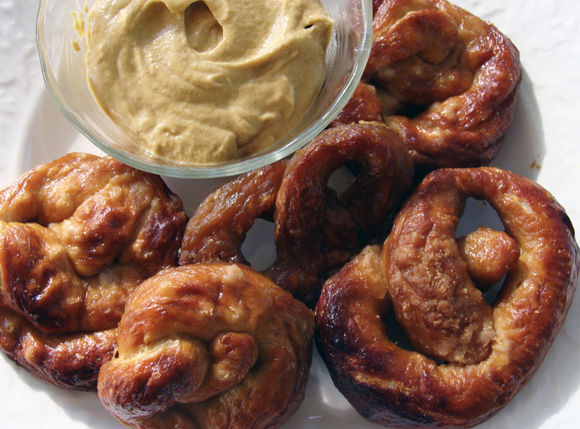 A while back, over the holidays I was in Florida visiting my family and found myself in a rare situation: I had free time and there was no long to-do list ready to eat it up. I had been meaning to try my hand at making soft pretzels with beer in them for a while, so I seized the opportunity and set up shop in my mom's kitchen.
I really love soft pretzels, mainly because they are the perfect vehicle for mustard which I am obsessed with, but I have never made them before. I started looking around for recipes and landed on a soft pretzel recipe by Alton Brown. I'm a big fan of his and trust his recipes. It called for boiling the pretzels before baking, just like a bagel, which is the appropriate way to make them from what I understand. I modified the recipe slightly swapping out most of the water for beer.
Given my Mom's well stocked kitchen, the only thing I had to go out and buy was the beer. I set out to the liquor store with no idea of the type of beer I was going to use for the pretzels. Being in Florida, I had a different selection to choose from then my home in Santa Monica, CA. The store had lots of good stuff, but I was drawn to the Terrapin Beer Company's Rye Squared (the amazing label had something to do with it). I am a big fan of rye beers and thought this one would add great flavor to the pretzels. Thankfully I was right.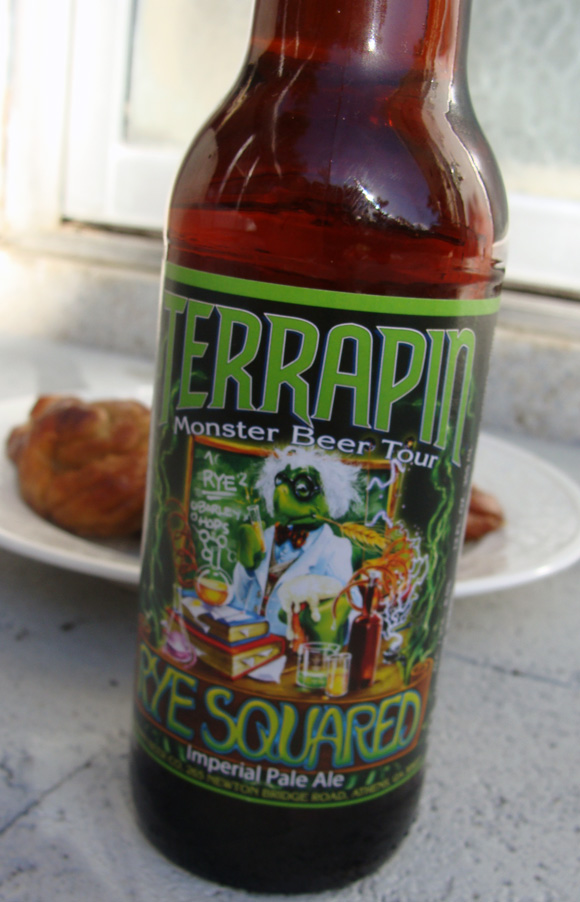 Making the pretzels was pretty easy and really fun. I enlisted the help of my mom and cousin and it was a great way to spend the evening together. I think we had the most fun shaping the pretzels. Getting them into the "normal" shape proved to be a little challenging so we used our own style and ended up with a much more unique end product.
Once the pretzels went into the oven, they browned up fast and I couldn't wait to give them a try. When they were cool enough, I grabbed one and wasted no time covering it in mustard and digging in. Everything about them was amazing. They smelled great, looked beautiful, had a wonderful texture and most importantly were the best tasting soft pretzels I have ever had. The rye beer added a nice subtle flavor and also paired well while eating the pretzels.
The recipe made quite a few pretzels (we kept them pretty small), so I was hoping I would be able to bring  some back to California with me, but they were all gone a few days later. Now that I am back, I can't wait to make these again. I'm thinking they would make an excellent addition to a Super Bowl day spread…
What you need (makes about 20 – 25 small sized pretzels or 10 large)
1/4 cup warm water (110 – 115 degrees)
1 1/4 cup beer of choice (I used a rye imperial pale ale, but a pale ale or brown ale would be nice too)
2 teaspoons kosher salt
1 package active dry yeast
4 1/2 cups flour
2 ounces unsalted butter, melted
10 cups water
2/3 cups baking soda
1 egg yolk beaten with 1 tablespoon water
Coarse salt
What You Do

To get started, put the water, sugar, and salt in a bowl then sprinkle the yeast on top. Allow it to sit for about 5 minutes to proof the yeast. You should see a bit of foaming action taking place. Next, pour in the beer then add in the flour and butter. Using an electric mixer outfitted with dough hooks, mix the ingredients on low speed until everything comes together. Then, turn the mixer up to medium and continue mixing 3 – 4 minutes until the dough is smooth and pulls away from the bowl.
Now that your dough is made, roll it into a ball and add it to a well-oiled bowl. Cover the bowl and set it in a warm place for the dough to rise and double in size. This should take about an hour.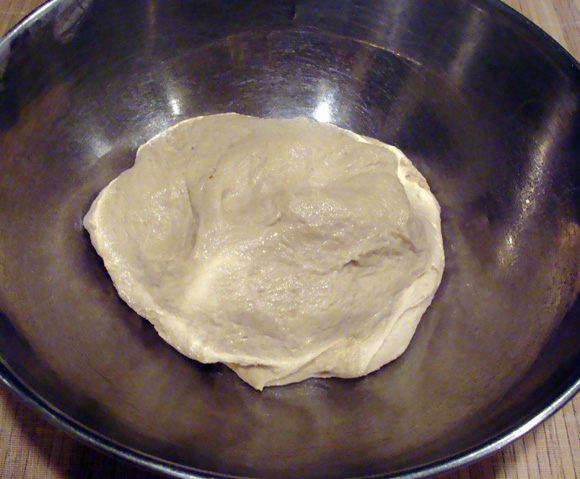 When your dough is almost ready, preheat your over to 450 degrees and get some baking sheets ready to go by brushing a light layer of oil on them. Also, get your boiling water ready by bringing 10 cups of water to a boil in a large pot and add the baking powder.
When the dough has doubled in size, turn it onto an oiled work surface and get to work cutting and shaping the pretzels. I wanted mine to be on the smaller size, so I divided my dough into 2 pieces, then flatted those pieces into discs and cut my dough into thin strips using a pizza cutter. To form the pretzel, take a strip and role it into a thin rope shape. Form the rope into your shape of choice. Here is how Alton's recipe describes making the traditional knot, "Make a U-shape with the rope, holding the ends of the rope, cross them over each other and press onto the bottom of the U." I was kind of successful at doing this, but have a lot of practicing to do. Don't worry if your pretzels don't look super pretty, they will still taste great. Put your formed pretzels onto the prepared baking sheets.
Now time to boil! Once your water is ready to go, place a pretzel in it using a slotted spoon or spatula. I was able to do about 3 pretzels at a time without much issue. Boil them for about 30 seconds, then remove and put back on the baking sheet. Brush each boiled pretzel with the egg wash and sprinkle with coarse salt to your liking.
Throw the baking sheets in the preheated oven and bake for 12 – 15 minutes until they are golden to dark brown. Let the pretzels cool for a few minutes, then grab your best mustard and be prepared for pretzel heaven.
These guys store well in an air tight container on the counter. You could also freeze them and re-heat in the oven. Enjoy!