Strand Brewing Company brewed their first batch of beer in September of 2009 out of Torrance, CA and they have been growing a strong fan-base ever since. They (meaning Rich and Joel, the two guys that started and run the brewery) recently opened a tap room as a way to thank those fans. I have been enjoying their 24th Street Pale Ale out at my favorite bars for a while now, so when Rich invited me to come by the tap room for a visit, I couldn't wait to check it out.
The tap room for Strand Brewing Co. is housed in the front part of their brewery. It is tucked away in the back of an industrial park where all the building look the same, so it's hard to spot, but worth the hunt. It was a rare rainy day in LA when I stopped by, so I was expecting it to be pretty quiet, but I was wrong. There was a good crowd gathered in the first part of the tap room, which is filled with kegs and has a bar made from a copper mash tun placed in the middle of the room.  I made my way to said bar as soon as I got there and tried a few beers, including their black IPA, but couldn't resist a pint of their excellent pale ale. It is their flagship beer weighing in at 6.1% ABV and is really well balanced with the perfect mix of bitter, citrus, and floral tastes.  I was with a friend who I hadn't seen in a while, so after grabbing beers we moved to the quieter second room and took a seat on one of the makeshift grain sack/keg seats to enjoy our beers and catch-up. She grabbed a Beach House Amber ale, which I have been told goes well with pizza. It comes in at 5.1% ABV and is slightly hoppier then most ambers you come across. As for the tap room, the overall vibe in the place was very laid back with a good neighborhood feel. It is simple, with no TVs and minimal decorations. This place is all about hanging out, drinking beer, and having a conversation.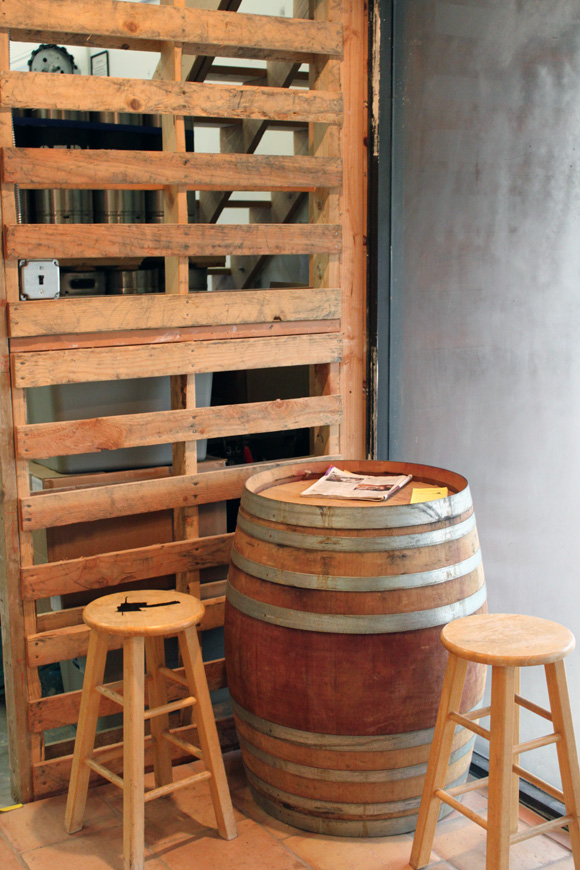 After a couple of pints, Rich, Strand's marketing/sales guy, came into the tap room and gave me the rundown on how they got started and the philosophies they operate on that have made them successful. Strand was started in 2009 with 3 guys and they sold their first beer in October of that same year. They are now operating with just two people and are going strong. Last year alone they managed to sell 45,000 gallons of beer in the Southern California area.  When I asked Rich about what has been the key to their success, he explained to me that they have built a very solid foundation for the brewery with amazing customer service in one corner and high quality beer in the other.  Consistently delivering on those two founding principles has allowed them to grow a large fan and customer base in a little over two years. Rich told me that they always have those two cornerstones in mind with every decision they make. They have to think, "Is this move going to make us stronger or weaker? Does this make sense for how we like to operate?". He said that owning and operating a brewery is "a game of chess, not checkers" and you have to stick to your founding principles. With their success over the past two years, offering great customer service and quality beer is clearly working for them.
As for the brewery itself, they are running off of a 15 barrel brew system and have three 60 and three 15 barrel tanks. Joel is the brewer and is more of the behind the scenes man, while Rich handles the sales, marketing and customer service. They decided to name the place "Strand" because it is the German word for "beach".  Also, I'm sure the fact that the well know sidewalk on the beaches of LA, known as "the strand", happening to be very close by didn't hurt when picking the name either. Their tap handles carry through the beach theme with screen printed images of lifeguard towers. When they first started the brewery, Joel was making the tap handles out of old flooring from his house – apparently he is a pretty amazing craftsman and has built most of the brewery himself. Rich let me try some of Joel's recent handiwork in the brewery and poured me a taste of a beer he was calling "truth serum". It is brewed with lots of honey and hibiscus flowers. It had a pretty strong taste, as the name would indicate, but was unique and satisfying. I believe this is the same beer they are referring to on their website as "Hannah Sophia", which is a Braggot style brew. If you are interested in checking out his handiwork for yourself (which I recommend you do) you can find Strand beers all over bars and restaurants in Southern California and with the addition of the tap room, you can get the freshest pints they offer right from the source and take a grower to go. They are holding their grand opening this weekend on Saturday (4/14) and Sunday (4/15), which sounds like the perfect excuse to get out and try it for yourself if you ask me.
The Grand Opening
To celebrate the opening of the tap room at Strand Brewing Company, they are having an official grand opening this weekend.  Here are the details you need to know:
When: Saturday (4/14) from 12 – 8 pm & Sunday (4/15) from 12 – 6 pm.
Where: Strand Brewing Company, 23520 Telo Ave., Torrance, CA 90505
What makes it special: Strand will be offering an exclusive release of their newest ale, White Sand Double IPA, at the grand opening. In addition to that, they will be offering up some delicious cask beers throughout the weekend (casks to include: Batch 100 Stout, 24th Street Pale Ale double dry-hopped w/Amarillo hops, & 24th Street Pale Ale double dry-hopped w/ Cascade hops). Special prices on growlers fills will also be on tap.
Check out the full details on their Facebook page.
I plan to stop by Saturday afternoon to recover from a bridal shower I have to go to, so hopefully I'll see some of you there!