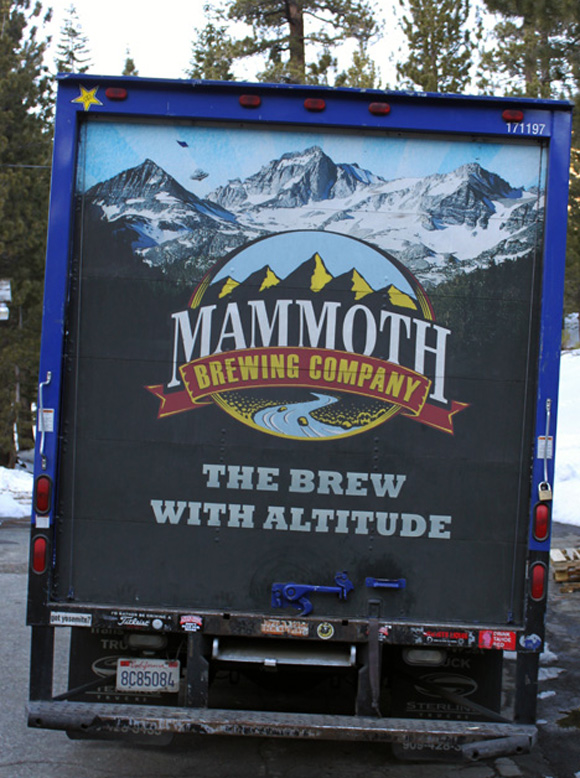 Recently my friends and I packed up our gear and headed to the mountains for a weekend of playing in the snow, eating, drinking, and heated board game playing in Mammoth Lakes, CA.  I was in charge of securing the rental house, so of course finding a place within walking distance to the Mammoth Brewing Company was among my short list of requirements. I began my search and soon found a great place that had the brewery within a 5 minute walk, so I grabbed it. Besides the ski slopes and grocery store, Mammoth Brewing Company was the only place we ventured outside of the house that weekend, so I would say my selfish requirement turned out to be an important one for the entire group of 10.
Last time I visited the brewery was almost exactly 2 years earlier in January 2010. It was incredibly tiny, extremely packed and I wasn't very impressed with the beers. The selection was fairly limited and the beers very straight forward in terms of style. It was still a good time, but I wasn't dying to buy lots of beers to take home with me and enjoy later.  This visit 2 years later was completely the opposite, minus the packedness of the tasting room. They expanded their tasting room to be about three times bigger, they had a large selection of beers to try including some seasonals that were exciting and I took quite a few beers home with me that I can't wait to bust open. Amazing what a big difference 2 years can make.
We made the quick walk over to the the brewery on a Saturday night around 4:45pm and when we walked in the place was loaded with people. The 4 of us split up to better our chances of securing a spot at the bar for tasting. We had to wait about 15 minutes, but were finally able to grab a small section of bar and promptly began our tasting journey. They have laminated sheets on the counter that outline each beer they serve during the tasting. This is a great idea as you can refer back to the sheets while you are tasting the beer and remember what you drank when it is all over so you can choose what is coming home with you. They offer up a generous 9 beer line-up for the free regular tasting. We started out with the light and very refreshing Golden Trout Pilsner  and ended with the surprisingly mellow (you'd never know it was a 9%er) Hair of the Bear Doppelbock.
Our bartender was extremely helpful and very knowledgeable of all the beers. He did a great job explaining each beer and gladly answered our questions. After we wrapped up the regular tasting, we were thirsty for more and having too good of a time to leave, so we moved on to the seasonal tasting. It was supposed to be 4 beers for $4, but they were out of one, so we got 3 beers for $3. The seasonal tasting included my favorite beer of the night, Devils Post Pale Ale, 2011 Owens Vally Wet Harvest Larger, Charley Wine, and the Bluesa-Palooza Blonde Bock.  Almost all of the beers were tried were great, but here is a rundown on the standouts:
Devils Post Pale Ale: I loved this beer. They used volcanic rock to aid the boil, which transforms this beer from your run of the mill pale ale to a more robust beer with some elevated sweetness that is balanced by hops. This beer was created to celebrate Devils Postpile, a local geological wonder and they do an excellent job honoring the monument with this fantastic beer.

Owens Valley Wet Harvest Larger: When I think of fresh beer, this brew would be one of the first things to come to mind. It was brewed to celebrate local ingredients and the taste embodies that in every way. It's made using fresh cascade hops that are grown down the road from the brewery and are very prominent both in aroma and taste. You can't go wrong with fresh local beer.

IPA 395: I can't say this was one of my favorite beers I tried, but it was certainly very unique and creative, which I appreciate.  It's a double IPA that is brewed with sage and juniper berries that the brewery workers forage from the surrounding areas.  You can really taste these additions, which makes for one complex beer. I find sage a tough herb to work with in any situation, but they pulled it off.
By the time our tasting came to an end, the brewery was even busier and packed with an excellent crowed of happy beer lovers (and quite a few extremely happy dogs).  Everyone seemed to be in good spirits and the people we met were all really friendly. That's the power good beer has on people! It was getting close to the tasting room's 6pm closing time and we had a lasagna to get in oven at the house, so we picked out our souvenirs and headed back to our temporary home.
The visit to the Mammoth Brewing Company tasting room was easily one of the highlights of a fantastic weekend in the mountains. They have really come a long way in 2 years and it is a must for beer fans if you are in the area. It is the perfect way to recover from a day on the slopes (or a great way to liven up your day after relaxing in a cabin all day in my case). Great beer, fun people, good times.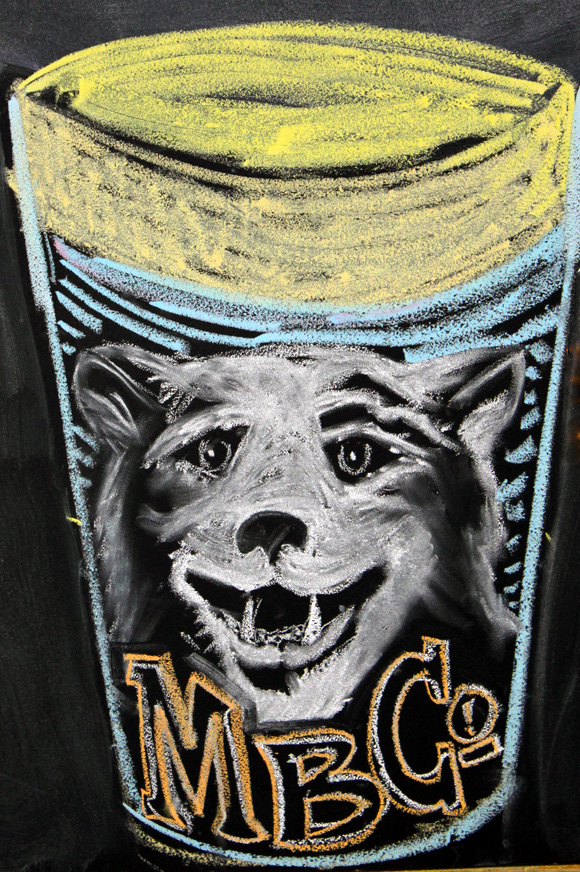 About Mammoth Brewing Company:
Mammoth Brewing Company has been brewing award-winning beers since 1995. They brew in the Whiskey Creek building, with the Tasting Room being about two blocks away at 94 Berner Street, right across from The Village's parking lot. You can sample diverse beers plus a few custom brews if they're on hand during your visit. They sell beer to go (including growler fills!) and sweet MBC merchandise. The tasting room is open daily 10-6. http://www.mammothbrewingco.com/