I recently discovered a wonderful thing that I never knew existed: cheese of the month clubs. Yes, that's right. You can be in a club where amazing, rare, creamy cheese gets delivered right to your door once a month. I wanted to be in this club from the second I heard it existed, so I did a bit of research. Thankfully my local cheese shop (Andrew's Cheese Shop in Santa Monica, CA) has such a club and I am now a card carrying member. Each month I get 1/2 pound portions of three different types of cheese. Most people would think this club offering would go perfect with the other club I'm in (my wine club) but they'd be wrong. It's not anyone's fault, really. We have all been made to believe that wine and cheese belong in the line-up of other great pairings like peanut butter and jelly or chips and salsa. And while some wines can complement some cheeses nicely, for the most part there is another beverage that is a far better companion to cheese than wine could ever be: Beer.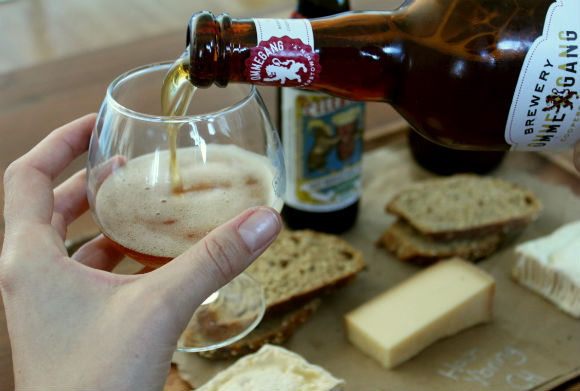 Beer and cheese are phenomenal together. The richness of cheese is cut so nicely by the carbonation of beer, leaving your palette cleansed and ready for another bite. With the vast variety and flavors of beer out there, you can always find a good pairing. To show you how great these things go together, I have decided to pair my cheese shipment each month with beers and share them with you. Feel free to try them out for yourself, or use my pairings as a guide to create your own. When thinking about beer and cheese pairings, here are some basic rules to keep in mind:
Match the strength of the cheese with the strength of the beer. Pair delicate beers with delicate cheeses and big beers with big cheeses. You wouldn't want to pair a double IPA with a fresh mozzarella cheese. The beer would completely overpower the cheese. Instead, pair the IPA with a very strong, stinky blue cheese, such as a Stilton, and the mozzarella with a hefeweizen.
Highlight the flavors & characteristics of the cheese with those of the beer. If you are serving a sweeter cheese with caramel notes, pair it with a malty beer like a dopplebock. If you are serving a cheese that traditionally goes well with fruit (like brie) try pairing it with a cherry lambic or other sweet, fruity beer. If you are dishing up an earthy goat cheese, put it alongside an earthy saison.
Start with the cheese, and then choose the beer. When setting up a beer and cheese pairing, I find it is a lot easier to start by picking the cheese (or having a surprise assortment of cheese delivered to me) and then picking the beers. I like to research the cheese, learning about its flavor profile, strength, etc. This often comes in the form of info cards from my cheese monger and internet research. I then try a small piece of the cheese (very important step!) and pick my pairings based off all that info. I like to make a list of the major flavors in the cheese and choose a beer with similar flavors and characteristics.
Don't stress about finding the perfect pairing. If this seems a bit daunting, just remember that at the end of the day, you are going to end up with a pile of cheese and beer. Even if all your pairings are really, really off (which they won't be) you are still in for a great evening. It's beer and cheese!
Here are my pairings for my January Cheese of the month shipment:
Leonora + Biere de Garde
Leonora is a rustic goat's milk cheese out of Leon, Spain. It has a lot of grassy and earthy notes, with aromas of mushrooms and lemons. It is a delicate cheese, so you want to pick a pretty mellow beer, but one that complements the earthy characteristics. A saison or biere de garde work perfectly for this given their earthy and rustic characteristics. I choose Brewery Ommegang's Biere D'Hougoumont as the match for this cheese.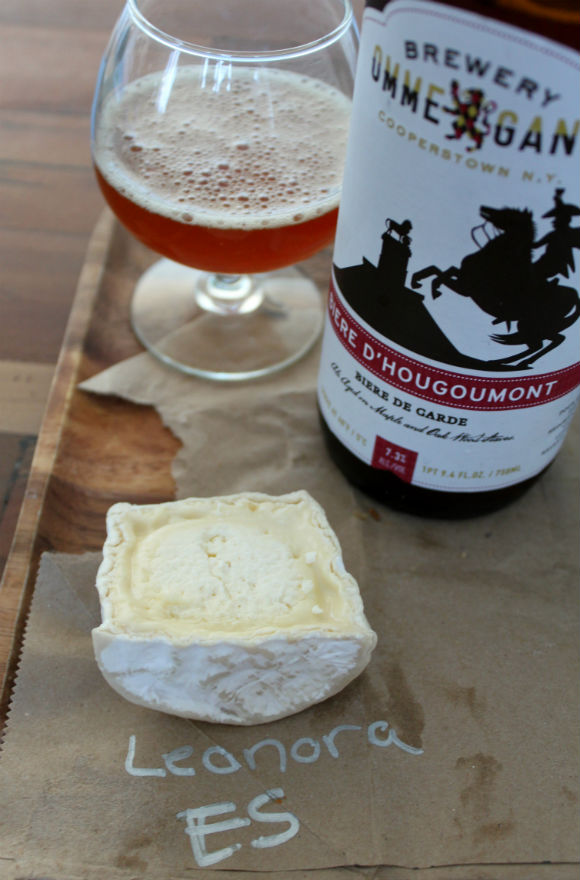 Picolo + Belgian Tripel
Picolo is a soft-ripened cow's milk cheese from Petaluma, CA. It is a triple crème (lots of rich fat!) with a touch of tangy crème fraîche. It is rich and buttery with a hint of acidity from the crème fraîche. To balance out the richness of this cheese, you need a stronger beer. To complement the flavors, you want something with a bit of sweetness.  I went with La Fin Du Monde by Unibroue, which is a Belgian style tripel. At 9% ABV it can stand up to the fat content of the cheese and it's floral and spice notes complement this triple crème nicely.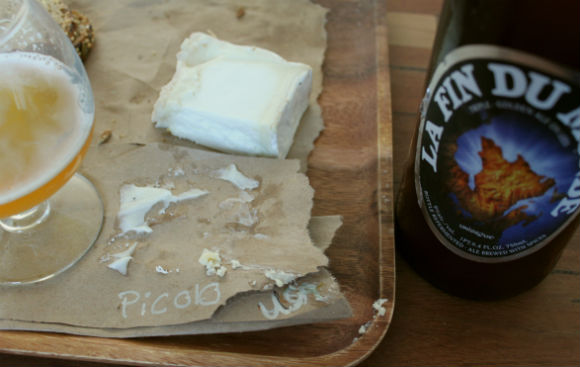 Hoch Ybrig + Dopplebock
This cousin of Gruyère hails from Switzerland and is made from raw cow's milk. The texture is very smooth, but dense. Flavors of Hoch Ybrig are sweet with a balance of salt and acidity. There are also definitive caramel and butterscotch notes. When choosing a pairing for this beer, something malty that highlights the caramel and butterscotch notes of the cheese is great. I went with Ayinger's Celebrator Dopplebock. It has lots of caramelly sweetness and almost no hop bitterness, so it will complement the cheese, but not overpower it.