Ladies and gentleman, pumpkin beer season is in full swing. The weather is getting cooler, football season is well under way, and you can't walk into
any grocery store without being bombarded by displays full of random pumpkin beers.  Breweries I have never heard of come out of the woodwork to brew and sell their own special variety. While I wish this time of year warmed my heart, it doesn't. I unfortunately don't like pumpkin beer. But, with it being so festive and all over the place, I figured I should find some ways to use these brews that could get me into the pumpkin beer season spirit.
This is the first of three posts that will feature ideas I have come up with to incorporate pumpkin beer into my life so I can enjoy it. First up: The pumpkin beer cocktail!
Beer cocktails seem to be gaining in popularity at bars and restaurants in big cities across the US. I am noticing them on specials boards more and more when I head out. For the most part I would rather just have a beer straight up, but these cocktails can be really fun. I have never crafted one of my own before, so I started by pulling together a bunch of ingredients that seemed like they could pair well with pumpkin beer. Here is what I started with: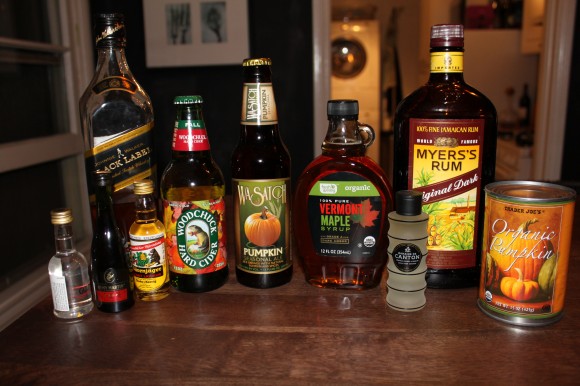 One 6-pack pumpkin beer (The store I was at had 3 varieties to choose from. One was from Blue Moon and the other two were breweries I was not familiar with. I bought the one of those two that was rated higher on Beer Advocate – Wasatch pumpkin ale)
Woodchuck Fall Cider (Special thanks to whoever mans the New Belgium Twitter account for giving me the idea!)
Maple syrup
Goldschläger
Rum
Whiskey
Canned organic pumpkin
Rémy Martin
Domaine de Canton (ginger flavored liqueur)
Barenjager Honey Liqueur (I bought this mainly because of the label – see below)
I started mixing various combinations and quickly realized that the rum and whiskey were too strong to be mixing with the beer. I also quickly learned that you can not use a cocktail shaker to make beer based drinks.  In the back of my mind I knew it was probably a bad idea, but gave it a try anyway.  About 3 minutes into my experiment and 3 shakes of the shaker, the top blew off and I had beer and pumpkin all over myself and my kitchen walls.  Oh well…The next thing to get voted off was the maple syrup. It made everything waaaay too sweet. The beer/cider combo worked great, so I stuck with that as a base. I then moved on to adding the different flavored liqueurs to pick my favorite. I am a ginger fiend, so I was not surprised to find the cocktail with the Domaine de Canton to be my favorite.
I ended up with a refreshing drink that screams Fall and has a bit of a bite to it. The honey liqueur one was also good if you are looking for something a bit sweeter. I added in a dollop of pumpkin puree to the drinks for color and flavor, which worked out nicely. All in all, this was a really fun experiment and I am excited to put on my amateur mixologist hat on again soon to craft up a new beer cocktail. Next time I will be leaving the cocktail shaker out of it though.
Here's how to create your own pumpkin beer fall cocktail
What you need
Pumpkin beer of your choice
Tart apple cider (I used Woodchuck Fall cider)
Ginger or Honey liqueur (I used Domaine de Canton ginger liqueur & Barenjager Honey liqueur)
Pumpkin puree (straight up pumpkin – not pumpkin pie filling)
A glass
A stirring device
What you do
In a glass of your choice, pour one part pumpkin beer and one part cider.
Add a splash of ginger liqueur (or honey liqueur if you want to go that route).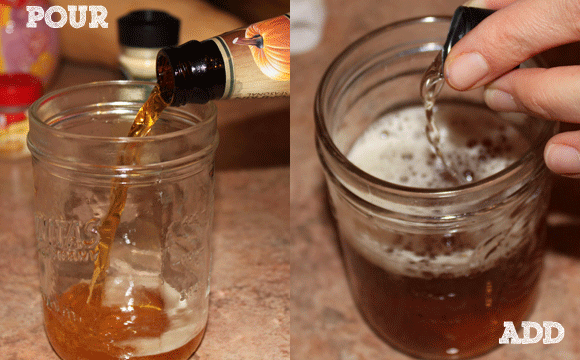 Drop in a heaping teaspoon of pumpkin puree.
Stir. Drink. Repeat.